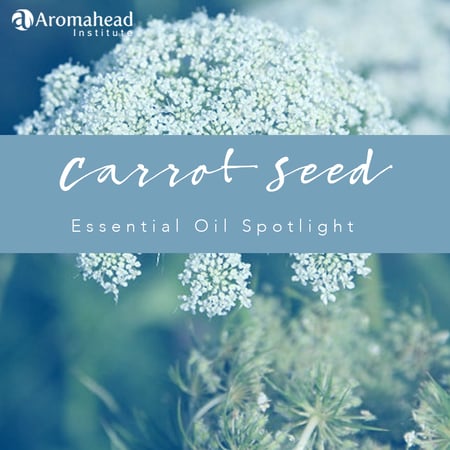 If you look up the word "rejuvenate," you'll get definitions such as:
To make (someone) feel or look young, healthy, or energetic again. (Merriam-Webster)
To restore to a former state; make fresh or new again. (www.dictionary.com)
When I was thinking about how to describe Carrot Seed essential oil for you, these ideas are exactly what came to my mind.
Carrot Seed essential oil loves to help us rejuvenate, regenerate, and restore. This goes for our skin as well as our spirits!
Carrot Seed oil has a slight aroma of carrots . . . but it doesn't smell like a salad! (In fact, Carrot Seed essential oil comes from the plant sometimes called "Queen Anne's Lace" or "Wild Carrot," which has a white root rather than a tasty-looking orange one.) You'll notice its aroma is very warm and almost floral. Carrot Seed oil is often used as an ingredient in perfumes.
This Spotlight includes five Carrot Seed essential oil recipes that can bring this oil's tender yet strong presence into your life.
---
Use Carrot Seed essential oil to moisturize your face.
Carrot Seed essential oil is one of my favorite oils for skin care, especially for face care.
Carrot Seed is ideal for delicate skin. It can support skin's health on deep levels, helping it look and feel radiant, even if it's damaged, irritated, dried out, or mature.
It's as though Carrot Seed is bringing out the true beauty that's always been within you, and restoring you to the person you know you are inside.
Here's a recipe for a gentle, effective facial moisturizer. It's a carrot face moisturizer . . . so you can call it "Carrot Face," haha!
Carrot Face (Moisturizer)
½ oz (15 ml) argan oil (Argania spinosa)
½ oz (15 ml) vanilla-infused jojoba (Simmondsia chinensis)
1 drop Carrot Seed essential oil (Daucus carota)
Make your facial moisturizer in a 1 oz (30 ml) glass bottle. Put a few drops in your palm and Massage it gently into your face. This blend smells delicate—slightly nutty with a hint of warm vanilla.
I hope you enjoy it! If you do, I also have a recipe for soap-free face wash that you might like, called Argan Aloe Face Wash.
---
Use Carrot Seed essential oil in a hand care salve.
Our hands have big jobs to do.
They're always moving. They're constantly exposed to the weather, getting washed with soaps that can dry them out, and working in the kitchen or garden (or both).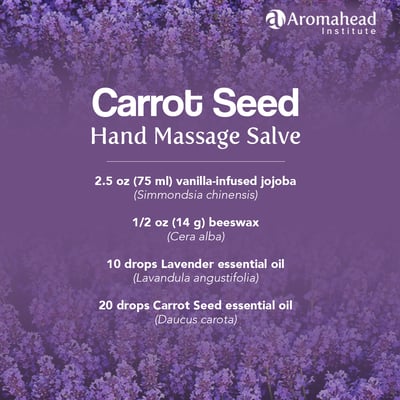 Carrot Seed essential oil understands that all that work can make the skin on our hands feel (and look) tired—especially our knuckles and the thin skin on the backs of our hands.
Since Carrot Seed loves to help our skin (and our spirits!) feel rejuvenated and restored, it's the perfect ingredient for a hand salve. You can use this blend to Massage your hands, or just to protect them at any time during the day.
Carrot Seed Hand Massage Salve
5 oz (75 ml) vanilla-infused jojoba (Simmondsia chinensis)
1/2 oz (14 g) beeswax (Cera alba)
10 drops Lavender essential oil (Lavandula angustifolia)
20 drops Carrot Seed essential oil (Daucus carota)
Directions
Set up the "Stovetop Melting Method" by putting a Pyrex measuring cup in a soup pot that's ¼ full of gently boiling water.
Melt the beeswax in the Pyrex.
Add the vanilla-infused jojoba and remelt.
When the blend is melted, remove it from heat and add the essential oils, stirring gently with the handle of a stainless steel spoon or a glass stirring rod.
Pour the blend into two 2 oz (60 ml) glass jars.
Your two jars will hold 4 oz (120 ml) of salve, but this recipe only makes 3 oz (90 ml). So your jars won't be completely full.
Use your salve to Massage your hands when they need a little love, or as an extra-rich moisturizer. It pairs well with this YouTube recipe I created for Absolute Relief Massage Oil.
I hope you enjoy this blend!
---
Use Carrot Seed Essential Oil in a rejuvenating body oil.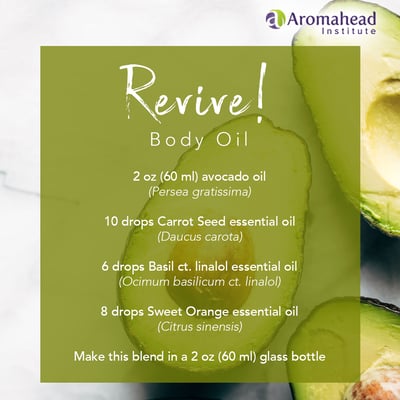 If Carrot Seed essential oil had a hobby, it would have a lot of fun keeping a greenhouse.
Carrot Seed enjoys nurturing things to help them be fresh and vibrant, so growing plants and vegetables would be right up its alley. It would specialize in rescuing plants that looked wilted or undernourished and bringing them back to full vitality.
It would also use the herbs and plants in its greenhouse to make its own body products. That way it could revitalize people, too!
Here's one of the body products Carrot Seed would make . . .
Revive! Body Oil
2 oz (60 ml) avocado oil (Persea gratissima)
10 drops Carrot Seed essential oil (Daucus carota)
6 drops Basil ct. linalol essential oil (Ocimum basilicum linalol)
8 drops Sweet Orange essential oil (Citrus sinensis)
Make this blend in a 2 oz (60 ml) glass bottle. Combine your ingredients in the bottle, shake gently, and use it as an all-over moisturizer.
The warm aroma of Carrot Seed essential oil smells beautiful combined with the scents of Orange and spicy-herbal Basil.
Even this blend's aroma can help you feel protected and restored, and I think you will love its effects on your skin!
---
Use Carrot Seed essential oil in your facial care routine.
If Carrot Seed essential oil had its way, everyone would take at least half an hour a day to relax and connect with something that makes them personally feel alive and radiant.
It would encourage going for a walk, taking the time to get a massage, or buying some new clothes that make you feel and look beautiful. Carrot Seed is all about nourishing your "inner glow" and "outer glow" at the same time.
Here are a few recipes that offer the perfect example. I like to use these together, setting aside about fifteen or twenty minutes for the experience. It's a warm facial steam followed by a soothing facial mask—a dynamic duo!
A Drop of Carrot Steam
Fill a soup bowl with warm, steamy water. Add a single drop of Carrot Seed essential oil (just one!). Drape a towel over your head, close your eyes (that part's important!), and lean over the bowl. Let the warm steam soothe and relax your skin for about 2–3 minutes.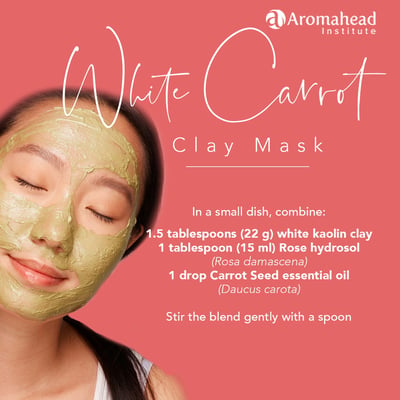 White Carrot Clay Mask
This facial mask is made with white kaolin clay, hydrosol, and Carrot Seed essential oil. You can get white clay from Aromatics International. I suggest Rose hydrosol for this blend, but you can use any hydrosol you like. A few other good options are Frankincense, Lavender, and German Chamomile.
In a small dish, combine:
5 tablespoons (22 g) white kaolin clay
1 tablespoon (15 ml) Rose hydrosol (Rosa damascena)
1 drop Carrot Seed essential oil (Daucus carota)
Stir the blend gently with a spoon. If you'd like a more liquid texture, add more hydrosol slowly—just a bit at a time—stirring as you go.
When you have a consistency you like, apply the mask to your face and leave it on for 10–15 minutes. Rinse it off over the sink with warm water and pat your face dry.
You can do this as often as you like—perhaps once a week, or just whenever you get time to nourish yourself.
As Carrot Seed would say, may you feel beautiful inside and out!
---
Use Carrot Seed essential oil in an Aromatherapy bath!
Carrot Seed thinks there's nothing as relaxing and rejuvenating as a warm bath.
Except, of course, for a good night's sleep.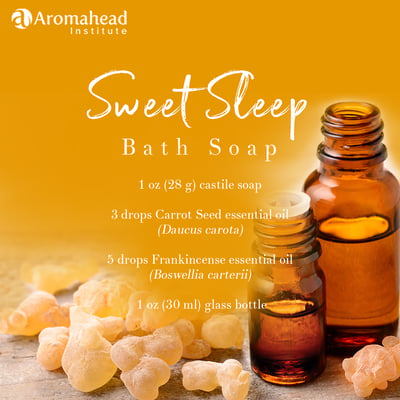 And Carrot Seed feels the most relaxed and rejuvenated of all when it combines the two.
No, Carrot Seed isn't suggesting you fall asleep in the bath tub! It created a soothing liquid bath soap that supports skin and inspires peaceful feelings that can help you sleep after you get out of the water.

Sweet Sleep Bath Soap
1 oz (28 g) castile soap
3 drops Carrot Seed essential oil (Daucus carota)
5 drops Frankincense essential oil (Boswellia carterii)
You can make this blend in a 1 oz (30 ml) glass bottle. Pour the castile soap into the bottle, add the essential oils, and shake gently. Then use half of the bottle in your bath!
Carrot Seed and Frankincense are both amazingly supportive of skin, helping it to restore itself after a long day. They encourage healing and reduce irritation. And as they're calming your skin, they're also calming your emotions. Carrot Seed and Frankincense are a "dream team" when it comes to relaxation!
---
I want to note that in the book Essential Oil Safety, by Robert Tisserand and Rodney Young, Carrot Seed is on the list of essential oils to avoid during pregnancy and breastfeeding. It may interfere with gestation, although they report that it's not known which component of the oil could be responsible for this.

Think of Carrot Seed essential oil as a friend who helps you feel relaxed and rejuvenated on the deepest levels. (Every time you see each other you end up laughing like crazy and feeling warm and happy inside!) It's one of my favorite oils for nourishing skin from day to day, as well as for supporting irritation—whether it's a bug bite or a more ongoing condition that needs some extra love.
Topics: carrot seed, carrot seed essential oil