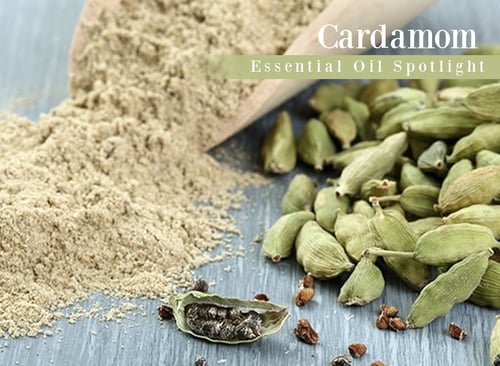 Cardamom (Elettaria cardamomum)
Cardamom essential oil is versatile. It's got a spicy side, a sweet side, a warm balsamic side, and a camphoraceous side.
Thanks to its experience in so many areas, Cardamom essential oil is a good listener.
If you're having problems but aren't sure exactly why, you can sit down with your warm friend Cardamom and talk all about it. Cardamom will see where you're stuck and help you work through it, so you can feel like a weight's been lifted from your chest and you can breathe easier.


In this Essential Oil Spotlight, I'll share ways to use Cardamom for:
Digestion
Room spray
Soothing a cold
Respiratory support
Relieving pain
And more!
Our first recipe shares the most traditional use for Cardamom, a way that it's been used for hundreds of years . . .
---
Use Cardamom Essential Oil for Digestion!

Have you ever experienced a tight, uncomfortable belly after eating cold foods (like ice cream) in winter? Cardamom essential oil is so helpful for that . . . and any time you feel bloated because you've eaten a bit too much.
In Aromatherapy for Healing the Spirit, Gabriel Mojay says that Cardamom essential oil is...
". . . a general tonic of the body's vital energy,
and its principle use lies in the treatment of digestive complaints . . ."
One of my favorite ways to use it is in a light body butter that you can rub on your belly and low back. Here's a blend you can use before or after eating (or both!)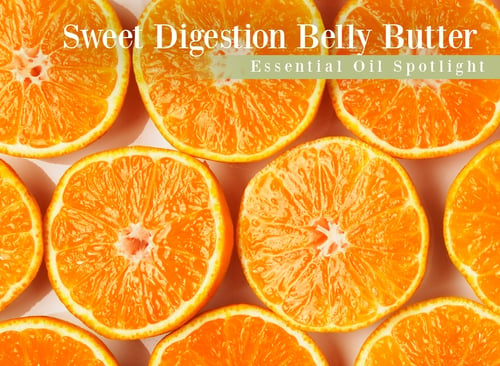 Sweet Digestion Belly Butter
3 oz (84 g) coconut oil (Cocos nucifera)
½ oz (14 g) Beeswax (Cera alba)
15 drops Cardamom (Elettaria cardamomum)
10 drops Roman Chamomile (Chamaemelum nobile)
16 drops Sweet Orange (Citrus sinensis)
12 drops Peppermint (Mentha x piperita)
Directions
You'll need one 4 oz (120 ml) glass jar or two 2 oz (60 ml) glass jars.
Prepare a "double boiler" by putting a Pyrex measuring cup in a pot ¼ full of gently boiling water. The water will heat the Pyrex and melt the ingredients in it.
Melt your beeswax in the Pyrex.
Add the coconut oil and melt.
Remove the blend from heat and add your essential oils, stirring gently.
Pour your body butter into your glass jars and set them aside to cool.
Coconut oil is used for its soothing, skin nourishing properties. It can be called a butter or an oil because it's solid at room temperature and melts when it gets warm.
In this recipe, Cardamom essential oil is blended with three of my other favorite essential oils for digestion: Peppermint, Roman Chamomile, and Sweet Orange.
Each of these oils is so effective, you could use it all by itself in this belly butter and experience wonderful results! When we combine them, we get a beautiful synergy that supports digestion from multiple angles.
Enjoy your dinner comfortably!


---
Spice Up Your Life (and freshen your room!) with Cardamom Essential Oil!

Cardamom essential oil wants to remind you of all the sweetness and spice life has to offer!
~ It's known to spark appetite and ease digestion, so you can both seek out new experiences and take them in more easily.
~ It's also good at easing tension from your heart and mind, so you can feel centered and have more fun.
~ It's helpful for respiratory congestion so you can breathe more easily.
~ It helps reduce physical pain and tension, so you can feel more like yourself.

This room spritz recipe is a great way to invite Cardamom into your home and life, so you can spice things up!

Sparkle and Spice Room Spritz
2 oz (60 ml) water
7 drops Cardamom (Elettaria cardamomum)
1 drop Clove (Eugenia caryophyllata)
12 drops distilled Lime (Citrus aurantifolia)
1 drop Ginger (Zingiber officinale)
Just shake and spray.
This spritz will last a few weeks before you should make a fresh bottle . . . but I bet it'll be gone long before then!
You can use this Cardamom room spritz in so many different ways.
Any time you want to get your energy flowing, and open your heart to feeling good, this blend will be there to help.


---
Cardamom and Resin Roll-On for Respiratory Support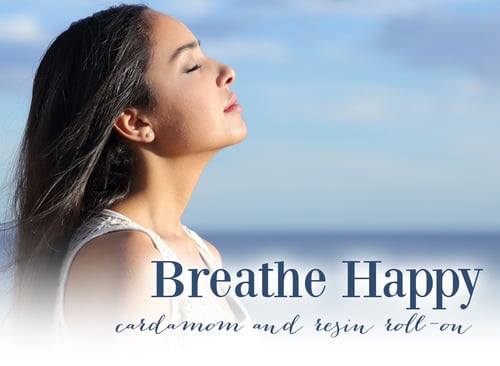 One way Cardamom essential oil can help is by easing stress and helping you take a deep, comforting breath . . . literally!
If you're stressed and think you might be getting sick, you can make this blend in a 1 oz (30 ml) roll-on bottle.
Breathe Happy Cardamom and Resin Roll-On
1 oz (30 ml) Baobab oil (Adansonia digitata)
5 drops Cardamom (Elettaria cardamomum)
5 drops Frankincense (Boswellia carterii)
3 drops Myrrh (Commiphora myrrha)
5 drops Elemi (Canarium luzonicum)
Blending Cardamom with resinous essential oils brings out its warm balsamic notes and creates a blend that offers strong respiratory support.
Roll this blend onto your neck, chest and upper back several times a day. Then (as Cardamom would say) take a deep breath and relax!
I love the baobab oil in this blend. It has a slightly nutty aroma that creates a beautiful base for the warm and resinous oils.
Baobab is an all-round amazing plant!
I saw a 2000-year-old baobab tree in South Africa. You can see pictures here.


---
Cardamom Essential Oil for Pain Relief

Physical pain, such as muscle pain and inflammation, can really hold you back from feeling like yourself. That becomes painful emotionally and mentally, too.
Cardamom essential oil wants to help.
Cardamom likes to soothe any tension or pain that's blocking your well-being.
This makes it a perfect companion for pain relieving massage. It's warming and stimulating, and it also has some camphoraceous notes that you might be surprised to find among its more recognizable spicy aspects. (Cardamom loves to surprise you!)
Here's a recipe that brings out Cardamom essential oil's camphoraceous notes by pairing it with herbaceous scents like Spike Lavender and Rosemary. It's made in a 2 oz (60 ml) glass bottle.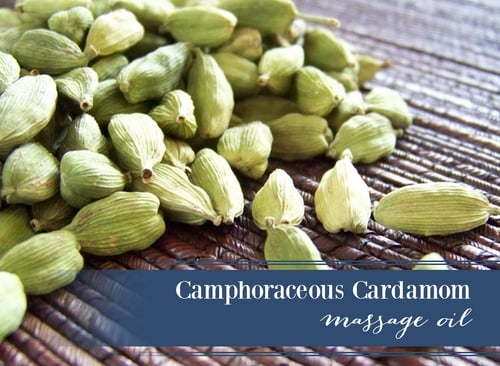 Camphoraceous Cardamom Massage Oil
2 oz (60 ml) Jojoba wax (Simmondsia chinensis)
6 drops Cardamom (Elettaria cardamomum)
6 drops Spike Lavender (Lavandula latifolia)
6 drops Lavender (Lavandula angustifolia)
6 drops Rosemary ct. camphor (Rosmarinus officinalis ct. camphor)
This blend feels so good on sore muscles!
It helps to reduce inflammation and increase circulation, so your natural energy gets flowing again and you feel more like yourself.
You can practice self massage with this blend and use it as often as you need.
For days when you need less pain relief, but still want to enjoy the warmth of Cardamom essential oil, you can make a moisturizer with Cardamom and Orange. Here's a YouTube video I made that shows you how.
---

Safety note for Cardamom essential oil.
Cardamom may not be the right oil for young children, as the camphoraceous quality can be very strong.
To be safe, you can substitute Tea Tree (Melaleuca alternifolia) or Cedarwood (Juniperus virginiana) for children.
---



Cardamom essential oil's 2-hour immersion class (accompanied by a 1-hour Q&A) will teach you how to safely and effectively use Cardamom essential oil, building your confidence so you can explain its actions clearly and use it creatively in your own Aromatherapy work.
You'll learn Cardamom's therapeutic uses, safety considerations, chemistry, and more. In addition to studying Cardamom essential oil in depth, you'll "meet" 12 other essential oils that support Cardamom's work, learn about baobab oil (a luxurious carrier oil), and study essential oil chemotypes.
After Cardamom's class, you'll understand the many different aspects of this versatile, friendly essential oil! Click the banner above to join us!
---
Subscribe to the Aromahead Blog!
Get notified when we post a new Essential Oil Spotlight
By subscribing you agree to accept emails from Aromahead Institute.
Topics: cardamom essential oil, cardamom, how to use cardamom essential oil, cardamom essential oil uses