Balsam Copaiba (Copaifera officinalis)
Balsam Copaiba is often mistaken for a conifer, but it's actually a tropical plant that grows in Brazil.
It doesn't have needles or cones, but it does produce a rich resin that the native people use to distill a warm, skin-loving oil.
Balsam Copaiba has more in common with resins like Frankincense than with conifers like Black Spruce!
Like Frankincense and other resin oils, Balsam Copaiba essential oil is excellent for respiratory support and skin care. It's good at reducing inflammation and inspiring peaceful calm conditions in the body and mind. (I really love blending these two oils!)


This Spotlight shares ways you can use Balsam Copaiba essential oil for:
Skin care (especially soothing and replenishing dry skin)
Stress relief
Massage
Shower gel
Emotional balance
Relaxation
And more!
Balsam Copaiba's aroma is woody, sweet, and balsamic with undertones of vanilla. (Just the description alone makes me want to get out my Balsam Copaiba essential oil . . . )


---
Dry Patches of Skin? Try Balsam Copaiba Essential Oil!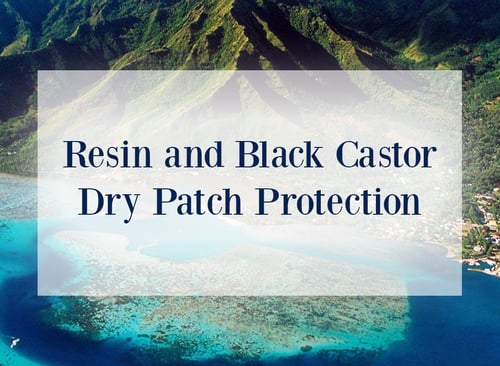 This is a recipe for a body oil to soothe extra-dry spots on your skin.
It's made with Balsam Copaiba essential oil blended into Jamaican black castor oil.
Jamaican black castor oil is actually from the same plant as "regular" castor oil, but whereas castor oil is pressed from the fresh seeds, the Jamaican black variety is pressed from seeds that have been roasted first. The result is a rich, warm oil. I think you'll love it!
Resin and Black Castor Dry Patch Protection
1 oz (30 ml) Jamaican black castor oil (Ricinis communis)
9 drops Balsam Copaiba (Copaifera officinalis)
6 drops Frankincense (Boswellia carterii)
Combine all your ingredients in a 1 oz (30 ml) glass bottle. Massage your Dry Patch Protection oil into super-dry areas, such as around your elbows and knees, or areas prone to "alligator skin."


---
Balsam Copaiba Body Butter


If Balsam Copaiba were a person, it would have a
reputation as a natural healer among the locals of its native Amazon region.
People would trek through the tropical forests to Balsam Copaiba's little medicine hut, where it would make them skin healing salves, oils, and butters that soothe everything from dry skin, to stings, to inflamed rashes. It would be one of those magical healers who could look at you and know the exact medicine you need, and would always give you a bit of advice just as helpful as the medicine itself!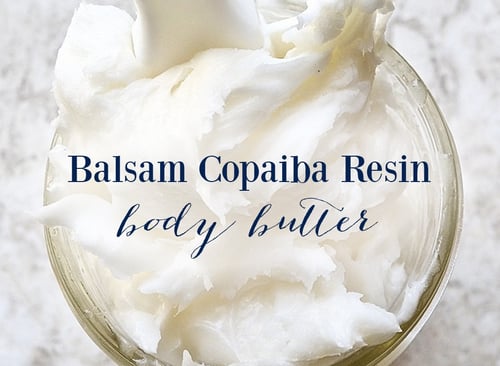 One bit of advice it would give is, "Use a nourishing body butter every day!"
Here's a recipe I think it would love:
Balsam Copaiba Resin Body Butter
1 oz (28 g) Beeswax (Cera alba)
3 oz (84 g) Natal Mahogany oil (Trichilia emetica)
2 oz (56 g) Palm Kernel oil (Elaeis guineensis)
30 drops Balsam Copaiba (Copaifera officinalis)
10 drops Neroli (Citrus aurantium var. amara)
Directions
First, prepare a double boiler using the "Stovetop Melting Method." Put a Pyrex measuring cup in a cooking pot that's ¼ full of gently boiling water.
Melt the beeswax in the Pyrex.
Add the palm kernel oil. Palm kernel oil actually has the texture of a butter. The aroma is rich and nutty, with hints of caramel. (Your kitchen is going to smell amazing!)
Add the natal mahogany and melt, stirring gently.
Remove the Pyrex from heat and add your essential oils.
Pour your melted body butter into two 4 oz (120 ml) glass jars.
Use your body butter every day to nourish your skin and keep it protected and healthy.
Natal mahogany oil is from South Africa, where it's often used by the locals in handmade cosmetic blends. It's similar to coconut oil in that it's liquid at room temperature, but turns solid when it's chilled. (Read more about it in this blog post!)


---
Balsam Copaiba for Meditation and Massage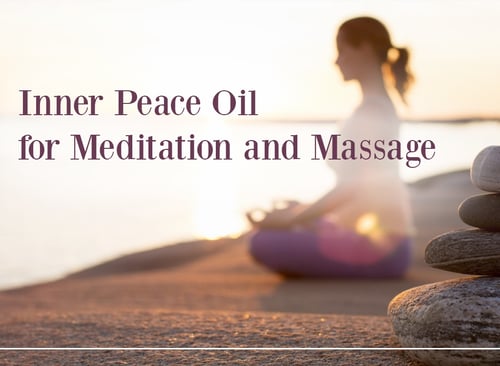 Did you know that Balsam Copaiba essential oil teaches meditation classes?
It warmly invites you to its yoga-massage-meditation-magic studio, where it will help you learn to release stress and tension, center your mind, and reconnect with yourself.
It will burn incense, give you mantras, and teach you to visualize yourself in the middle of a tropical Brazilian forest, so you know how to maintain peace of mind even when you leave its studio.
If you have trouble meditating, don't worry—Balsam Copaiba can help you relax by offering you a massage, too.
I say, why choose one or the other? Meditation and massage complement each other so well! So here's a recipe you can use as massage oil, or anytime you want to meditate, reflect, and relax.
Balsam Copaiba Inner Peace Oil
1 oz (30 ml) Vanilla-infused jojoba wax (Simmondsia chinensis)
8 drops Balsam Copaiba (Copaifera officinalis)
4 drops Opopanax (Commiphora guidotti)
Combine your ingredients in a 1 oz (30 ml) glass bottle. Use this oil for an especially centering massage that helps you get back in touch with your own inner peace and wisdom. The vanilla-infused jojoba lends a warm, delicious base aroma that pairs beautifully with the resins.
This massage oil is also amazing for your skin. Try it as a moisturizer!


---
Balsam Copaiba Resin Shower Gel


Balsam Copaiba studied at the same school as Frankincense. (You knew essential oils went to school, right? Haha!)
Like Frankincense, it knows that feeling rejuvenated, relaxed, and healthy can happen in small but significant ways every day—like during your daily shower.
In the mornings, Balsam Copaiba likes showers that are
centering and uplifting, so it can go into its busy day feeling alert and collected.
If it showers in the evening, it wants to relax and transition out of the day's events.

This is a recipe for shower gel with Balsam Copaiba essential oil and Frankincense essential oil. There are two versions—one for morning (with Rosemary), and one for evening (with Lavender).
"Refresh in the Morning" Resin Shower Gel
2 oz (56 g) Aloe vera gel (Aloe barbadensis)
14 drops Balsam Copaiba (Copaifera officinalis)
7 drops Frankincense (Boswellia carterii)
9 drops Rosemary (Rosmarinus officinalis ct. camphor)
5 mL Solubol dispersant
If you usually shower in the evening, you can modify the recipe by replacing the Rosemary with 9 drops Lavender (Lavandula angustifolia). I call that version "Relax in the Evening Resin Shower Gel."
Make your shower gel in a 2 oz (60 ml) PET plastic bottle. (I usually prefer to use glass when blending with essential oils, but I don't want this bottle to break if I drop it with slippery hands. PET plastic is known as a non-reactive plastic that doesn't leach. In cases where glass isn't ideal, PET plastic is a good choice.)
I recommend making this blend fresh every few weeks.
You can use your shower gel all over your body. I like to make a different wash for my face, though . . .


***

Argan Oil Face Wash
This soap-free face wash is so cleansing and moisturizing!

***


---
Now you know that Balsam Copaiba essential oil isn't actually from a Balsam . . .

It's from a resin! The plant itself isn't a true Balsam or even a conifer. It's a tropical rainforest plant, from the same part of the world as Green Mandarin, Rosewood, and Palo Santo (a lot of which grows in Ecuador).
You can get to know Balsam Copaiba by adding about 12 drops to 1 oz (30 ml) of pure jojoba (Simmondsia chinensis). Keep your Balsam Copaiba oil with you and use it throughout the day to soothe sore muscles, moisturize your skin, reduce infections, and clear your breathing. See how Balsam Copaiba can support you!


---
Subscribe to the Aromahead Blog
Get notified when we post a new Essential Oil Spotlight
By subscribing you agree to accept emails from Aromahead Institute.
Topics: balsam copaiba essential oil, how to use balsam copaiba, balsam copaiba