Vetiver (Vetiveria zizanoides)
Vetiver is the most grounded essential oil I know.
It's distilled from the rootlets of the grassy plant, so the oil is deeply connected to the earth.
In The Complete Guide to Aromatherapy, Salvatore Battaglia tells us that Vetiver is planted on mountainous slopes, because...
"its abundant lacework of rootlets will prevent the loss of soil… during the wet season."
You can think of Vetiver as helping us "hold it all together," even during stormy times. It can help us feel centered within ourselves, and deeply aligned with our core values.

In this Essential Oil Spotlight, you'll learn how to use Vetiver for:
Natural perfume
Massage oil
Relaxation
Cooling down
Feeling inspired
Feeling grounded
Nourishing body butter
And more!
Vetiver offers a very powerful kind of peace that comes from being grounded. Maybe that's why it's also known as "Oil of Tranquility." Each of the recipes in this Spotlight incorporates that tranquility in some way. There are so many options for bringing Vetiver's serenity into your life. Enjoy!

---
Sweet Earth Perfume with Vetiver Essential Oil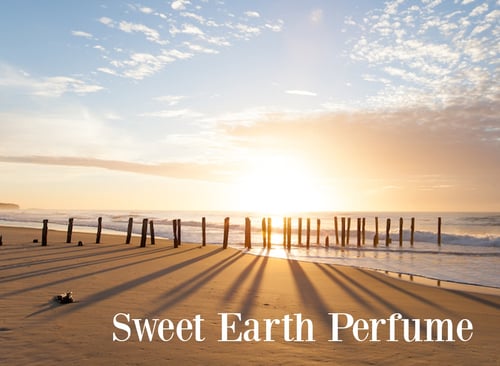 Being planted on mountainous slopes gives us a hint about Vetiver's talents. Because while it's very grounding and centering, it's also uplifting.
Gabriel Mojay says, "The uplift that Vetiver brings is one that, paradoxically, comes of traveling down..."
Vetiver is a base note (Not sure what that is? Click here and you'll understand!) with a heavy, sweet, earthy aroma. It's been a popular fixative in natural perfumes since ancient times. It's one of my favorite oils to use for natural perfume, both alone and in blends.
Here's a roll-on perfume recipe I think you'll love.
Sweet Earth Perfume with Vetiver Essential Oil
.35 oz (10 ml) Jojoba wax (Simmondsia chinensis)
3 drops Vetiver (Vetiveria zizanoides)
1 drop Neroli (Citrus aurantium var. amara)
2 drops Sweet Orange (Citrus sinensis)
Make your perfume in a .35 oz (10 ml) glass roll-on bottle. Just fill it with your jojoba and then add your essential oils drop by drop. You may have to use a pipette or a funnel for the jojoba.


You can also make a solid perfume balm.
This recipe will guide you through adding a bit of beeswax
to your jojoba, so you get a beautiful solid perfume.


---
Calming Natural Massage Oil with Vetiver

If Vetiver essential oil were a Massage Therapist, it would practice hot stone massage . . . in a beautiful forest . . . next to a waterfall.
You'd be able to smell the fresh damp earth, the fragrant trees, and the clean air.
You would feel the mist of the waterfall on your skin. The hot stones on your body would be just warm and weighty enough to make you feel grounded. If you got cold, Vetiver would move you closer to the fire it used to heat the stones.
I feel more relaxed just imagining it!
Vetiver loves connecting us to the earth in ways that make us feel alive, present, healthy, and whole.
It's a wonderful oil to use for massage, which can help us in much the same way.
Camellia Vetiver Massage Oil
1 oz (30 ml) Camellia oil (Camellia oleifera)
6 drops Vetiver (Vetiveria zizanoides)
2 drops Geranium (Pelargonium roseum x asperum)
1 drop Bergamot (Citrus bergamia)
Make your massage oil in a 1 oz (30 ml) glass bottle.
I love camellia oil as the carrier for this recipe.
Camellia oil is also called "tea seed oil" or sometimes just "tea oil." It comes from the same plant that gives us tea!
The plant produces a fruit with several chambers full of seeds, and the seeds give us nourishing camellia oil. It has a slight yellow tint and a delicate herbal aroma.
It's true that Bergamot is a phototoxic essential oil.
However, a single drop of Bergamot is well below the oil's phototoxicity levels.
Phototoxicity is a light-induced reaction to a photoactive substance, and requires both contact with the phototoxic substance and subsequent exposure to strong sunlight (UV light).
In everyday terms, phototoxicity is a reaction to sunlight, which can cause burning, blistering, and discoloration (abnormally dark patches and red areas) of the skin. Some essential oils are termed "phototoxic," since they increase the likelihood of a phototoxic reaction. Bergamot is one of these oils.
According to Robert Tisserand, Bergamot is safe for topical use at 2.4 drops per oz (30 ml) of carrier. The Bergamot in this massage oil is well below that level.
So enjoy your massage oil with a light, relaxed heart!
---
How People in the Réunion
Islands
use Vetiver Instead of Air Conditioning

When I was traveling several years ago, I met a woman from the Réunion Islands who told me her parents used to weave blinds for their house out of Vetiver grass.
Their windows had no glass, so they used the woven screens to reduce the intense heat. When it rained, the damp blinds would waft a gentle Vetiver aroma through the house. Now she always smiles when she smells Vetiver!


This is a traditional use of Vetiver in India, too.
It's a popular practice to keep the Vetiver window screens damp
so hot breezes are cooled, and they blow through to refresh and fragrance the house.

Most of us have glass in our windows, but we can still use Vetiver to refresh ourselves! I like to make a spritz with Vetiver hydrosol and a bit of essential oil. It has such a warm, earthy, sweet scent, and it always makes me feel inspired and grounded at the same time.
Vetiver, Lime, and Orange Hydrosol Spritz
4 oz (120 ml) Vetiver hydrosol (Vetiveria zizanoides)
20 drops Sweet Orange essential oil (Citrus sinensis)
20 drops distilled Lime essential oil (Citrus aurantifolia)
Make your blend in a 4 oz (120 ml) glass spray bottle.
You can carry it with you in your bag and use it throughout the day when you want to feel centered and uplifted. (Some citruses are phototoxic but Sweet Orange and distilled Lime are not).
And here's a great tip: This blend is especially nice spritzed on your pillowcase and sheets at night!
I recommend making this blend fresh every few weeks, as there are no preservatives in it and it's a water-based blend.


---
Earth Magic Body Butter with Vetiver Essential Oil

Vetiver wants you to take a warm mud bath.
It wants to show you how nourishing and rich the earth can be—that it can help ease your tension, relax your mind, and nourish your skin. What better way than to take a mineral-rich full body mud bath?
Okay, there might be a more practical way you can tap into the nourishing power of the earth, without even leaving home! (I've heard mud baths are hard to clean up...)
You can use Vetiver essential oil in a body butter. It's such an earthy, grounding oil, and is so loving to skin.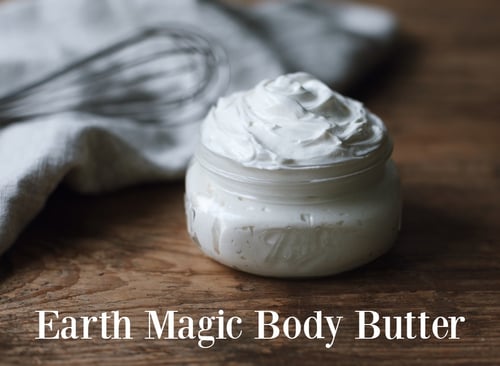 Think of Vetiver's lacy network of rootlets helping to strengthen the soil and hold it together, and imagine it supporting your skin in much the same way.
Earth Magic Body Butter
1 oz (28 g) Beeswax (Cera alba)
2 oz (60 ml) Vanilla-infused jojoba (Simmondsia chinensis)
3 oz (84 g) Aloe butter (Aloe butter ingredients can vary but it's usually made with coconut oil and organic aloe vera. You get the benefits of coconut oil and aloe in one butter!)
15 drops Vetiver (Vetiveria zizanoides)
20 drops Frankincense (Boswellia carterii)
25 drops Cedarwood (Juniperus virginiana)


Directions
Use the "Stovetop Melting Method" to make your body butter. Place a Pyrex measuring cup in a cooking pot that's ¼ full of gently boiling water.
Melt your beeswax in the Pyrex.
Add the jojoba and melt.
Add the aloe butter and melt.
Remove the blend from heat and add your essential oils, stirring gently.
Pour your blend into two 4 oz (120 ml) glass jars. Set the lids gently on top (so the essential oils don't evaporate) and let your body butters cool.
The base of this body butter (without the essential oils) makes a wonderful carrier for a variety of essential oil blends.
You can add different oils to create different effects, like offering energy, easing muscle tension,
and even easing irritation or healing a bruise.
Once you know the basic recipe, you can get so creative. I love that about homemade body butters!


---
Vetiver hopes you found this Essential Oil Spotlight relaxing.

But not so relaxing that you fell asleep at your computer. After all, you have some essential oil blends to make!
---
Subscribe to the Aromahead Blog
Get notified when we post a new Essential Oil Spotlight
By subscribing you agree to accept emails from Aromahead Institute.
Topics: Vetiver, vetiver essential oil, how to use vetiver essential oil, vetiver essential oil uses