Patchouli (Pogostemon cablin)
Patchouli essential oil has a reputation for being peaceful, even in the face of conflict, and connecting us with the earth.
It's all about calm, ease, and natural beauty.
In my mind, Patchouli's mental and emotional effects are reflected in what it can do for our bodies.
It calms inflammation, soothes anxiety, reduces bacteria, is astringent, and helps skin to heal.


The recipes in this Spotlight showcase Patchouli's talents for:
Helping to clear up acne
Reducing bacteria and fungi
Relaxing sore feet
Discouraging bugs!
Making natural incense
Soothing skin
Making calming bath salts
Natural deodorants
And more!
Patchouli essential oil is special in that it has an incredibly long shelf life. Many essential oils have shorter shelf lives due to the rate at which they oxidize, but Patchouli actually "improves" with age—its scent deepens. In fact, Aromatics International lists the shelf life of Patchouli as 20 years! They even sell "Vintage Patchouli" that they have been deliberately aging for years. It's lovely!


---
Patchouli Essential Oil Acne Blend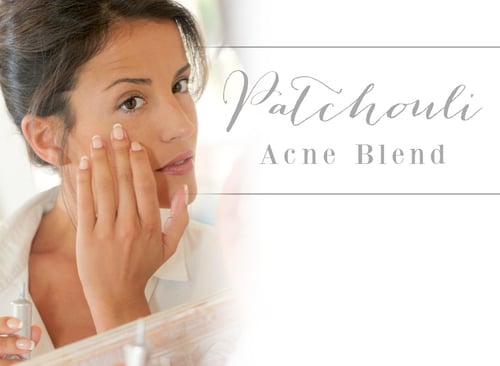 Patchouli essential oil's skin-soothing, inflammation-calming, bacteria-reducing nature makes it perfect for a natural acne blend.
This recipe is made in a base of aloe vera gel, which is gently drying for oily spots of acne. You can make it in a 1 oz (30 ml) flip-top bottle.
Patchouli Acne Blend
1 oz (28 g) aloe vera gel (Aloe barbadensis)
5 drops Patchouli (Pogostemon cablin)
5 drops Lavender (Lavandula angustifolia)
3 drops Tea Tree (Melaleuca alternifolia)
2 drops Lemon (Citrus limon)
To use this blend, first give it a shake to distribute the essential oils more thoroughly through the aloe vera gel. Then get a drop on a cotton swab and dab it gently on the acne. (This isn't meant as a whole-face wash.)
Give it a test run by dabbing it on a few spots for several days and seeing how the skin reacts. If the change is positive, go ahead and dab it on the rest of the acne.


This recipe is popular with boys, who I've found
don't often gravitate toward floral fragrances.
But girls love this blend, too!

The other essential oils in this blend support Patchouli's ability to calm inflammation and reduce bacteria. That's exactly what we want in a natural acne blend!


A NOTE ABOUT LEMON ESSENTIAL OIL: If you're wondering about Lemon essential oil's photoxicity (Lemon is a phototoxic citrus oil, which means that it can cause skin reactions in sunlight), let me reassure you . . . we are using a very low drop count of Lemon (only 2 drops for 1 oz/28 g of aloe). That amount is NOT phototoxic, so we are all good to use this blend on the face!


I recommend making a fresh bottle of this every few weeks, since it's not made with preservatives. If you'd like to add a bit of Solubol to the blend, to help the essential oils stay dispersed through the aloe, 3 ml of Solubol would be the right amount. Be sure to leave a bit of space in the bottle for it.


---
Patchouli Essential Oil Foot Massage Gel

If I could design an essential oil for foot massage, I think my creation would turn out a lot like Patchouli.
Patchouli has antibacterial and antifungal properties.
It's great for feet that spend a lot of time in hot sweaty shoes—where bacteria and fungi like to grow.
It also nourishes dry, cracked skin, and is one of the most popular essential oils in natural deodorants. This makes complete sense when we consider its ability to reduce bacteria (which often causes odors).
Try this recipe for your next foot massage!
Patchouli Foot Massage Gel
1 oz (28 g) aloe vera gel (Aloe barbadensis)
5 drops Patchouli (Pogostemon cablin)
5 drops Peppermint (Mentha x piperita)
You can make this blend in a 1 oz (30 ml) flip-top bottle. Shake well, than use it to massage sore feet! It can help reduce swelling and cool heat too, so it's great to have around on hot days.
Just like the acne blend above, this blend doesn't include a preservative. You'll want to make a fresh bottle every few weeks. If you'd like to include Solubol dispersant, add 2 ml.


****************

Patchouli from the Seychelles used to be considered some of the finest in the world...

. . . but now the plant barely grows there.
My friend Mustafa (a distiller) is bringing it back,
with an amazing plan to grow the local economy along with the Patchouli plants.

Read about his work here!

It's good to learn about the people who work so hard to grow the plants and distill the oils that make our love for Aromatherapy possible. It's a way for us to feel connected with each other, and to realize we're a part of a global community that shares our passion.
****************


---
Patchouli Bath Salt, Incense, and Bug Spray

Patchouli essential oil has an amazing ability to soothe irritation, whether it's mental, emotional, or physical.
Natural bug sprays made with Patchouli essential oil smell better than chemical sprays, and are much safer. It's good to know your bug spray is actually nourishing your skin. (Learn a recipe for bug spray!)
How's that for soothing irritation? It stops bugs from ever biting!

As incense, Patchouli can help calm mental irritation by easing overthinking. It helps ground us in our bodies. I like to make my own incense by adding drops of Patchouli to blank incense sticks.


In Aromatherapy: A Complete Guide to the Healing Art, authors Keville and Green say, "As a cell rejuvenator and antiseptic, Patchouli is a treatment for acne, eczema, inflamed, cracked, sensitive, or mature skin and skin growths."


It can be blended with any carrier, and is particularly beautiful when combined with other base notes, like Vetiver and Balsam Copaiba. Here's a bath salt recipe that can help you experience the skin-healing effects that Keville and Green were talking about!

Patchouli Bath Salt Blend
4 oz (112 g) Epsom salt
2 drops Patchouli (Pogostemon cablin)
1 drop Vetiver (Vetiveria zizanoides)
2 drops Balsam Copaiba (Copaifera officinalis)
2 tablespoons (30 ml) castile soap
Use a wide-mouth jar that holds 4 oz (120 ml) of salt.
You can just drop the essential oils and castile soap right into the salt, stirring all the while. This recipe is enough for two baths.
I love making Aromatherapy blends that serve multiple purposes!
With this bath salt, I'm grounding myself, discouraging bugs, and caring for my skin all in one step. (Oh, and it also relaxes your mind and nervous system . . . so try a bath right before bed!)


---
Make Patchouli Natural Deodorant (that doesn't stink!)

I used to have such a difficult time finding natural deodorants that actually worked.
Then I decided to stop hunting, and made my own recipes. (I'll bet you're not surprised!)


One of the first essential oils I reached for was Patchouli.

It has a history of use in natural perfumes and deodorants.

One reason it works so well is because it reduces bacteria growth—and bacteria on our bodies is part of what causes odor. (Another reason I reached for Patchouli is that it smells amazing!)
I call this recipe "1960." You can make it in a 2 oz (60 ml) glass jar.
1960 Patchouli Deodorant
1 oz (28 g) coconut oil (Cocos nucifera)
1 tbsp (15 g) baking soda OR arrowroot powder
1 tbsp (15 g) green clay
15 drops Patchouli (Pogostemon cablin)
5 drops Sandalwood (Santalum paniculatum)
Directions
Combine the coconut oil, clay, and baking soda or arrowroot in a small bowl and mix well.
Add your essential oils and mix well.
Spoon your deodorant into a 2 oz (60 ml) glass jar.
Before you use this recipe regularly, dab a small amount under your arm with a round cotton face pad to be sure the baking soda or arrowroot doesn't irritate your skin. Most people (even those with sensitive skin) have a great experience with this blend.


---
Get to know Patchouli Essential Oil . . .
Many people think they know Patchouli essential oil, only to be surprised once they start blending with it.
The aroma of this essential oil is very different than the popular incense most people are familiar with.
In my book, The Heart of Aromatherapy, I imagined that Patchouli would run a chilled-out, relaxing radio station that plays nothing but music from the 1960s! It seemed like a great way to show Patchouli's peace-loving, but also fun, presence. Just imagine . . .
"Patchouli's station has become a center where the whole community is welcome.
They have 'dance hour' every day at noon, and 'drumming and singing hour' every evening.
Patchouli even has a 24-hour 'nap room,' with dim lights, relaxing music, and incense.
Drop in and curl up in a hammock or bean bag chair and get a little rest!"


You can find The Heart of Aromatherapy at Aromatics International.


To learn more about other

essential oils

, visit our Essential Oil Spotlights page.
---
Subscribe to the Aromahead Blog
Get notified when we post a new Essential Oil Spotlight
By subscribing you agree to accept emails from Aromahead Institute.
Topics: patchouli, patchouli essential oil, how to use patchouli, how to use patchouli essential oil, patchouli essential oil uses