Palmarosa (Cymbopogon martinii var. motia)
Palmarosa essential oil is very skin protective.
In The Complete Guide to Aromatherapy, Salvatore Battaglia says that it . . .
hydrates skin, has antiseptic properties, balances all skin types, regulates sebum production (the oil that your skin produces), and can stimulate cellular regeneration.
Palmarosa essential oil is also deeply supportive of restoring strength, opening your heart, and boosting immunity.


In this Essential Oil Spotlight, I'll share ways to use Palmarosa for:
Natural bug spray
Bath salt
Relaxation
Reducing dust mites
Cooling down
Massage oil
Foam soap
And more!
Palmarosa is one of my favorite essential oils to use for blends meant to reduce the presence of certain kinds of "pests". . . whether that means germs, bugs, or even some kinds of fungi. If those "pests" are on your skin, Palmarosa is an even better choice! It encourages skin's health, while it discourages anything that might get in the way of that.
On that note, let's jump into our first recipe!


---
Palmarosa Essential Oil Natural Bug Spray

Going for walks, spending time outside with friends, or working in your garden can be so relaxing . . . assuming you don't get eaten alive by bugs!
That's where Palmarosa essential oil can help. It's very protective of your personal space, and repels insects that might bite or sting your skin. I like to use it when I make natural bug repellents.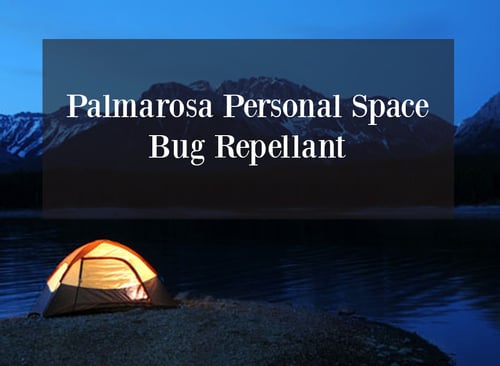 Palmarosa Personal Space Bug Repellant
4 oz (120 ml) German Chamomile hydrosol (Matricaria recutita)
8 drops Palmarosa (Cymbopogon martinii var. motia)
8 drops Spikenard (Nardostachys jatamansi)
4 drops Patchouli (Pogostemon cablin)
6 drops Cedarwood (Juniperus virginiana)
Make this blend in a 4 oz (120 ml) spray bottle.
Use it as needed, shaking well and then spritzing it all over your skin and clothes when you're spending time outside. (Like all essential oil blends, be sure to keep it away from your eyes.)
This natural bug spray smells amazing! It has no harsh scents that can sometimes "repel" people from bug repellents.
And it's made in a base of German Chamomile hydrosol, so it can actually nourish your skin.
Hydrosol is a water-based product, and the essential oils won't naturally stay mixed with it. Shake your bug spray well each time you use it. If you like, you can add 4 ml of Solubol to this blend. Solubol is a "dispersant" which can help the essential oils stay distributed through the hydrosol.
I recommend making a fresh bottle of your natural bug spray every few weeks, since it's not made with a preservative.


---
Palmarosa Essential Oil Bath Salt (and Massage Oil)

Have you ever had an Aromatherapy massage and felt so relaxed, reassured, and healthy afterward . . . but found yourself wishing for another massage only a few days later?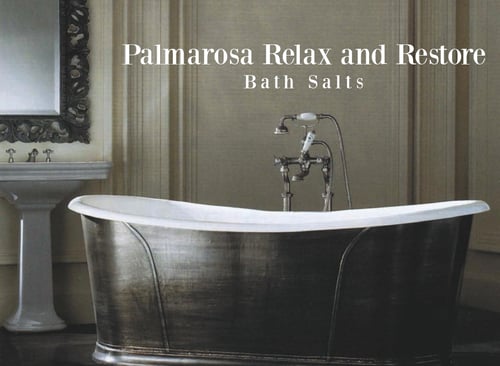 One way to re-inspire that sense of relaxation is to use the same aroma in a bath salt that was used during your massage.
Scent affects the limbic system (the seat of our emotions), so our bodies respond to it quickly.
Palmarosa is perfect for massage sessions and warm baths right before bed (when its soothing influence on the nervous system can help you slip off to sleep).

Palmarosa Relax and Restore Bath Salt
6 drops Palmarosa (Cymbopogon martinii var. motia)
4 drops Patchouli (Pogostemon cablin)


You can blend those oils into a base of either:
For massage oil: 1 oz (30 ml) jojoba wax (Simmondsia chinensis)
For a bath salt: 1 oz (28 g) natural salts (I like pink Himalayan salts) and 1 tablespoon (15 ml) of castile soap
To make your massage oil, add the essential oils and jojoba to a 1 oz (30 ml) glass jar, close the lid, and shake gently.
To make your bath salt, simply put the salt in a 1 oz (30 ml) container, and drop the oils and castile soap right into the salt, stirring as you go.
This makes enough for two baths. (I use about 5 drops of essential oil per bath.) But if you like the blend you can increase the recipe.
The bath salt doesn't include a preservative, so if you do increase the recipe just be sure to make a fresh jar every few weeks.


---
Reduce Dust Mites with Palmarosa Essential Oil!

Dust mites. Nobody wants to talk about them, because nobody feels like they can do anything about them.
Dust mites live on dust, which is easily collected by your bed linens (and upholstery, and carpet, and all over your house!) They can cause a lot of allergies.
Fortunately, there are natural ways to reduce dust mite infestations.
In 2008, a study was published in the Journal of Microbiology and Biotechnology about dust mites.
It showed that dust mites do not like geraniol, a naturally occurring component in many essential oils.
Spray geraniol on a piece of linen, and dust mites will vacate the area.
Palmarosa essential oil has a very high concentration of geraniol.
So guess what you can use it for?
Here's an excellent linen spray recipe that helps keep those dust mites away!
"Bite the Dust, Mites!" Palmarosa Spray
8 oz (240 ml) water in a spray bottle
60 drops Palmarosa essential oil (Cymbopogon martinii var. motia)
20 drops Lavender essential oil (Lavandula angustifolia)
To get the most out of your linen spray, first wash your linens in very hot water. Then use the spray several times a day. The ingredients are very skin friendly and relaxing, so it's nice to wrap yourself up in the sheets at the end of the day.
I recommend making a fresh bottle of this blend every few weeks, since it's not made with a preservative.


I wrote a blog post about dust mites and geraniol several years ago.
Read it here if you'd like more information about this.


---
Mix and Match! Choose Your Carrier, Choose Your Essential Oils!

Palmarosa is a great essential oil to use for summer Aromatherapy blends! It's cooling and soothing, can repel insects (and those smaller "bugs"—microbes), and supports immunity.
So I've got four suggestions for blends you can make with Palmarosa to get a head start on summer.
First, I'll share the four carriers I'm suggesting, then I'll give you some essential oil ideas for how to blend in them.
Think of it as a "mix and match!"
First you choose your carrier, then your essential oils, and ta-da! You've got a customized blend!


The Carriers
Massage Oil: 1 oz (30 ml) jojoba (Simmondsia chinensis)
Bedtime Body Cream: 1 oz (28 g) of your favorite natural, unscented skin cream
Peaceful Palmarosa Bath Salt: 2 oz (56 g) salt and 1 tbsp of castile soap
Palmarosa Lullaby Linen Spray: 1 oz (30 ml) water


The Essential Oils
Try Palmarosa with Sandalwood in the massage oil, or Palmarosa and Patchouli in the bath salt. Just add one drop at a time to each blend, to be sure you like the aroma you're creating.
Palmarosa (Cymbopogon martinii var. motia)
Sandalwood (Santalum paniculatum)
Patchouli (Pogostemon cablin)
Myrrh (Commiphora myrrha)
Lavender (Lavandula angustifolia)


Ready to make your blend? Here's how much essential oil to use . . .
~ At Aromahead, our rule of thumb when blending for children is to use about 5 to 6 drops of essential oil for every 1 oz (30 ml) of carrier.
~ For adults you can use 10 to 15 drops for every 1 oz (30 ml) of carrier.


For the body cream and linen spray, I suggest making your blends fresh every few weeks, since they are not made with preservatives. Have fun with your custom-made blends!


---
Palmarosa Essential Oil Foam Soap

One of Palmarosa essential oil's main components is geraniol, which makes it especially cooling, antifungal, and destructive to viruses and bacteria.
Sound like a great ingredient for natural homemade soap, right?
Here's a recipe for luxurious foam soap you can use in your office or bathroom. It also makes a great travel soap.
Palmarosa Foam Soap
45 ml castile soap
10 drops Palmarosa (Cymbopogon martinii var. motia)
10 drops Lemon (Citrus limon)
2 drops Peppermint (Mentha x piperita)
You can make this blend in a 50 ml foam soap pump (which I like to get at Aromatics International). Once you pour the castile soap into the bottle, you'll see there's a little room left—that's intentional, because the top of the foam soap pump is bulky, and when you screw it on the liquid will rise (you don't want it to spill over).
This foam soap is especially reliable if you've got any cuts or scrapes on your hands. Its anti-inflammatory and bacteria reducing effects are gentle, yet effective.


---
If Palmarosa Essential Oil were a Person . . .
. . . it would probably give a lot of attention to learning how to care for skin.
I can imagine Palmarosa traveling the world to learn how different plants go about skin care and reducing infections, then making its own products based on all of the knowledge it has collected.
Bug sprays, dust mite reducers,
anti-fungal blends, skin creams,
massage oils, foam soaps, and more . . .
Palmarosa's line of products could be used in every area of your home!
But sadly, Palmarosa isn't a person . . . Happily, this means we get to have fun making all these products ourselves!


To learn more about other

essential oils

, visit our Essential Oil Spotlights page.
---
Subscribe to the Aromahead Blog
Get notified when we post a new Essential Oil Spotlight
By subscribing you agree to accept emails from Aromahead Institute.
Topics: Palmarosa essential oil, palmarosa, how to use palmarosa essential oil, how to use palmarosa, palmarosa essential oil uses