Lime essential oil (Citrus aurantifolia)
Lime essential oil is one of the happiest, most refreshing oils I know.
It's such a sparkly, tropical aroma. Every time I open my bottle of distilled Lime essential oil and take a deep breath, I can't help but think, "Wow, this is amazing!" It always makes me smile.


In this essential oil spotlight, we'll take a look at how you can use distilled Lime essential oil for:
Energy and optimism
Immune support
Releasing tension (physically and emotionally)
Reducing germs
And more!
But first . . .
************
An Important Safety Note on Lime Essential Oil . . .
It's important to mention that when Lime essential oil is cold pressed it becomes what we call "phototoxic."
What does phototoxic mean?
Phototoxicity is a reaction to sunlight, which can cause burning, blistering, and discoloration (abnormally dark patches and red areas) of the skin. Some essential oils are termed "phototoxic," since they increase the likelihood of a phototoxic reaction.
But did you notice what I mentioned? This happens when Lime essential oil is cold pressed, which is a common way of extracting the essential oil from the fruit rind.
Another way of extracting Lime essential oil is by steam distillation, and in this case it is NOT phototoxic. The process of steam distillation doesn't let through the phototoxic elements of Lime. I always like to use distilled Lime so I can fully enjoy its sparkling aroma without concern.
Want to know more about phototoxicity?
I've written a blog post about it,
sharing which essential oils are phototoxic
and how you can safely use them.
************
Now let's get into the recipes!
---
Diffuse Lime Essential Oil for Energy and Optimism

Invite Lime essential oil into your home, and it will probably convince you to host a dinner party—Lime is friendly and energetic, and loves to connect with people. (Don't worry, it will clean up after the party—it's great in natural cleaning recipes!)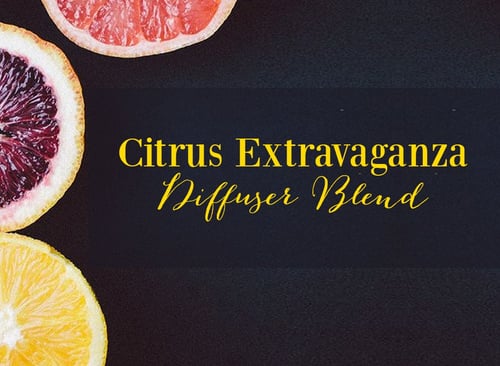 Sound like a great essential oil to diffuse?
It is! I love diffusing distilled Lime essential oil with other citruses. Here's a bright, summery blend that always makes my home (and my heart!) feel open and energized.
Citrus Extravaganza Diffuser Blend
20 drops distilled Lime (Citrus aurantifolia)
12 drops Lemon (Citrus limon)
10 drops Orange (Citrus sinensis)
18 drops Bergamot (Citrus bergamia)
This is a stock blend, so you can make it in a 5 ml glass bottle, and use it several times.
You'll get about six or seven diffusing sessions out of this blend, depending on how many drops you diffuse at a time. I diffuse about 10 drops at a time.
I always feel so energized by diffusing citrus essential oils!


---
Distilled Lime Essential Oil Immune-Support Body Butter

Feeling under the weather? Coming down with something?
Among its many talents, distilled Lime essential oil has a great bedside manner (although it never went to medical school, ha!) It can cheer you up and help support your immunity at the same time.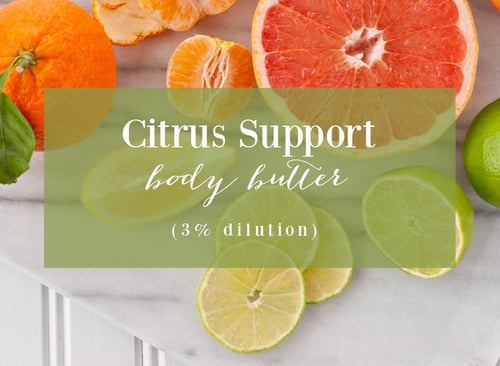 It has a reputation for making people feel better just by being in its presence. In fact, all the citruses are great at this.
This recipe is for an immune support body butter made with jojoba wax, coconut oil, and beeswax.

Citrus Support Body Butter
2 oz (60 ml) Jojoba wax (Simmondsia chinensis)
4 oz (112 g) Coconut oil (Cocos nucifera)
1 oz (28 g) Beeswax (Cera alba)
43 drops Frankincense (Boswellia carterii)
38 drops distilled Lime (Citrus aurantifolia)
27 drops Grapefruit (Citrus paradisi)

Directions
You'll need two 4 oz (120 ml) glass jars for this body butter.
Place a Pyrex measuring cup in a cooking pot that's ¼ full of gently boiling water.
Add your beeswax to the Pyrex and allow it to melt.
Add the jojoba wax. You can stir the melting blend with a glass stir rod or the end of a stainless steel spoon.
Add the coconut oil.
When all your ingredients are melted, remove the blend from heat and add your essential oils, stirring gently.
Pour your blend into your glass jars and set the lids on top while they cool. (The lids will prevent too much essential oil from evaporating.)
Distilled Lime essential oil and coconut oil complement one another so well. I love pairing these two ingredients! In fact, I want to share a . . .
LIP BALM RECIPE
with coconut oil and distilled Lime

Since we're using distilled Lime essential oil in that lip balm recipe, there are no worries about phototoxic reactions for our lips. The only warning I'll give is . . . look out! Making lip balm is fun! You might get a lot of great ideas for different blends and then you'll be making lip balm all the time. Have fun!
Now on to our next recipe in the Spotlight . . .


---
Red Raspberry Massage Oil with Distilled Lime

Have you ever felt re-inspired about your job after a vacation? Or felt stuck on a project, and gotten a new idea after taking a break?
Sometimes the best way to get a fresh infusion of energy is to kick back and relax.
Lime essential oil knows all about this! It manages to combine relaxation with feeling energized.
Lime helps us release stress and clear our minds, so we can approach the day with a sunny outlook. It's right at home, for example, in an invigorating massage oil . . . like this one:
Raspberry Lime Massage Oil
1 oz (30 ml) red raspberry seed oil (Rubus idaeus)
10 drops distilled Lime essential oil (Citrus aurantifolia)
Make your blend in a 1 oz (30 ml) glass bottle. Just combine both ingredients, close the bottle, and shake gently.
Doesn't the distilled Lime paired with the red raspberry sound so delicious? It is! The aroma of red raspberry seed oil is very delicate, containing just hints of the fruit—it actually reminds me of olive oil. It's full of antioxidants and is so good for skin. (I know—I wish it smelled like raspberries too, but the Lime takes care of the delicious aroma!)
I love this blend for a morning or afternoon massage, when Lime essential oil's energy can brighten up the rest of my day.


---
Distilled Lime Essential Oil Foam Soap

Invite Lime essential oil into your home, and it will clean everything up, leave every room sparkling, and open all your windows to let in a fresh warm breeze.
Lime essential oil keeps a very clean house and loves to impress guests when they come over for dinner.
But you're not allowed at Lime's dinner table until you wash your hands!
Lime essential oil has a reputation for helping to reduce microbes.
So when you sit down to eat, you won't have to worry about germs. It can also neutralize odors that like to cling to your skin (even garlic and onions), and it leaves behind a mouth-watering scent.
You can clean your hands with a fresh slice of citrus to experience this. Or you can make your own Lime Aloe Foam Soap: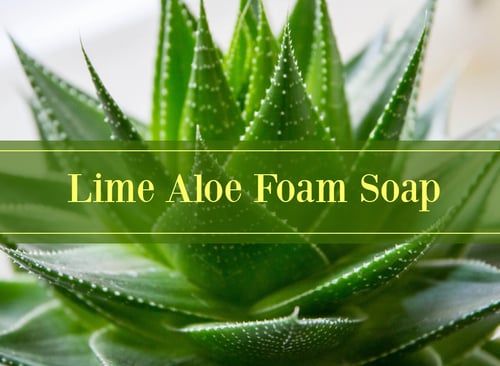 Lime Aloe Foam Soap
1.25 oz (40 ml) castile soap
0.25 oz (7 g) dash of aloe vera gel (Aloe barbadensis)
20 drops distilled Lime essential oil (Citrus aurantifolia)
I have to tell you . . . I don't actually measure the aloe in this recipe! I usually just add a "dash." I know that some people prefer accurate measurements, so feel free to measure things out if you like. But don't worry if you're a little off in your measurements.
I recommend making a fresh bottle of this foam soap every few weeks because there are no preservatives in it.


---

Before I end this Lime Essential Oil Spotlight, I have a little riddle I want to share with you . . .

What's leafy, green, refreshing, and croaks a lot?
The answer is . . .
A frog in a Lime tree.
I just made that riddle up. Hmm, maybe I should stick with teaching people about essential oils, haha!
Our friend distilled Lime essential oil hopes that you enjoy these recipes, and that you have fun making all the fresh, vibrant, SAFE citrus blends that you like!
---
Subscribe to the Aromahead Blog
Get notified when we post a new Essential Oil Spotlight
By subscribing you agree to accept emails from Aromahead Institute.
Topics: Distilled lime essential oil, lime essential oil, how to use lime essential oil, lime essential oil phototoxic