Helichrysum (Helichrysum italicum)
Out of all the essential oils I know, Helichrysum essential oil is one of the most experienced healers.
It knows how to heal bruises, wounds and skin issues, and how to reduce scar tissue. It also knows about reducing inflammation, swelling, muscle and joint pain, and even respiratory issues.
Helichrysum essential oil is an expert in many kinds of cellular repair.
One of the places where Helichrysum grows is the island of Corsica. When I was there visiting my friend, a distiller named Michelle, she told me that Corsica has been fought over many times, and both the land and the people have experienced many war wounds. She feels that Helichrysum grows all over the island in such abundance to help the people who live there heal from the wounds of these wars. That's such a beautiful expression of Helichrysum's personality.


In this Spotlight, I'll share ways you can use Helichrysum essential oil to:
Make a restorative clay face mask
Keep your skin hydrated with a hydrosol spritz
Rejuvenate damaged skin with a Helichrysum face wash
Make a skin-soothing, healing body butter
Make an injury oil for muscles and joints
Make a skin-healing clay pack for irritated, inflamed areas of skin
And more!
---
Make a Green Clay Face Mask with Helichrysum Essential Oil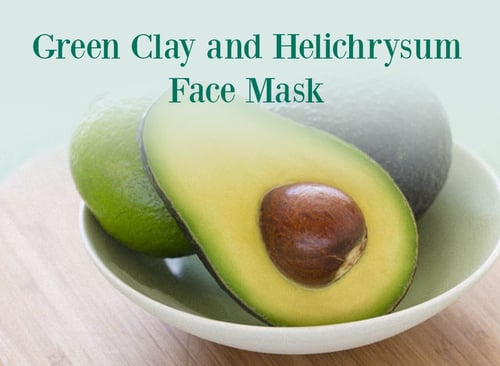 Helichrysum has a few flattering nicknames. It's known as "Everlasting" and "Immortelle."
It earned these nicknames because of its flowers—they're small, round, mustard-colored clusters that don't lose their color or shape even after they've been cut and dried. Helichrysum just seems to always look healthy.
Lucky for us, it's generous about sharing this talent!
Helichrysum essential oil loves to help us regenerate and rejuvenate.
Sometimes that means helping us heal a wound, and sometimes it means supporting our skin cells to renew from day to day.
There's no such thing as a fountain of healing or a fountain of youth.
But if these things did exist, I bet they would be flowing with Helichrysum essential oil!
A good way to use it for skin care is to make a restorative green clay mask and follow it up with a Helichrysum hydrosol spritz.


Everlasting Green Clay and Helichrysum Face Mask
1 tbsp French green clay
1 tsp Avocado oil (Persea gratissima)
1 drop Helichrysum essential oil (Helichrysum italicum)
To make your face mask, blend all your ingredients in a little bowl and apply immediately to clean skin. Let the mask sit for about 10 minutes. Remove it by rinsing with warm water and gently patting your skin dry.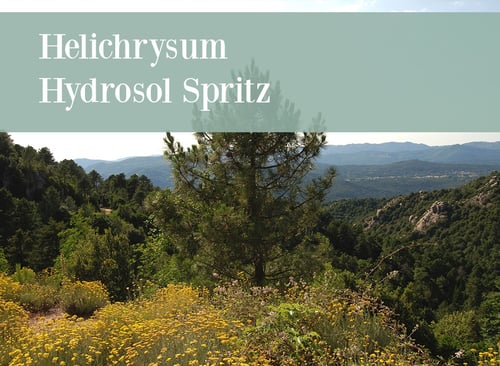 Then follow it up with a few sprays of your Helichrysum Hydrosol Spritz:
4 oz (120 ml) Helichrysum hydrosol (Helichrysum italicum)
You can order the hydrosol in a 4 oz (120 ml) bottle. If it doesn't come with a spray top, you can replace the top or pour it into a spray bottle.


We're using Helichrysum italicum in the recipes for this Spotlight, but there are actually many species of Helichrysum.
All of them are amazing healers, each in its own way!
---
Use Helichrysum Essential Oil in a Healing Facial Cleanser
Helichrysum wants to be there to help us every day, not just during the hard times.
In lower concentrations, or as a hydrosol, it's good for skin that has been damaged or is asking for refreshment.
This recipe is for a soothing facial cleanser you can use instead of soap. It's helpful for skin that's damaged or inflamed. It includes rosehip seed oil (a popular ingredient in facial care meant to restore skin) and a single drop of Helichrysum essential oil (yup—just one drop!)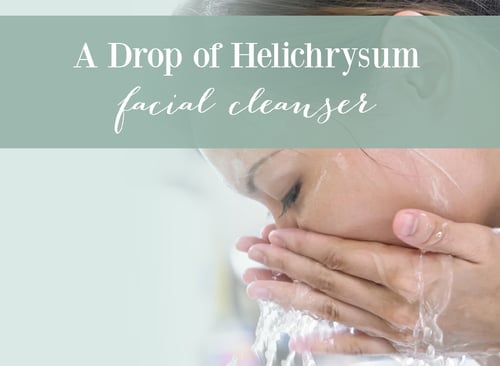 "A Drop of Helichrysum" Facial Cleanser
1/4 oz (7.5 ml) Lavender hydrosol (Lavandula angustifolia)
½ oz (14 gm) Rosehip seed oil (Rosa canina)
½ oz (14 gm) Aloe vera gel (Aloe barbadensis)
1/4 oz (7.5 ml) German Chamomile hydrosol (Matricaria recutita)
1 drop Helichrysum essential oil (Helichrysum italicum)
I make this blend in a 2 oz (60 ml) glass bottle, so I'm sure to have enough room for all the ingredients.
You'll need to shake this blend gently before every use to be sure the hydrosols are dispersed with the rosehip seed oil and aloe. I recommend making a fresh bottle every few weeks, since it's not made with preservatives.
Use your facial cleanser just like soap: Dampen your face with warm water, massage your skin gently with your cleanser, then rinse. Ta da! Clean skin! And the rosehip seed oil will leave it feeling moisturized, too.
---
"Heal Me, Helichrysum!"
A Nourishing Body Butter Recipe with Helichrysum Essential Oil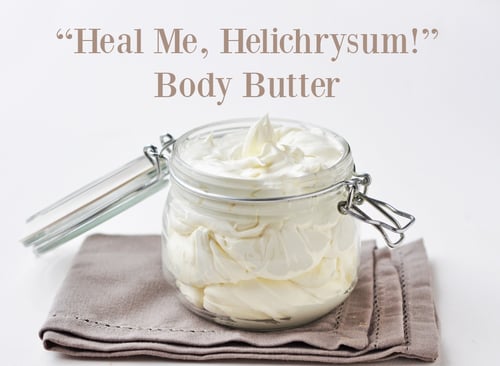 Helichrysum essential oil has formed its own team of healers. It wants to open a skin care spa, you see.
It's personally selected some colleagues to work with—members of the plant kingdom who, like itself, are excellent skin care specialists, able to heal just about everything from inflammation to acne.
Frankincense and Lavender are definitely on its team. So are a few unique body butters, like aloe butter and mango butter.
Aloe butter is a luxurious butter made with aloe vera. Its ingredients can vary, but it's usually made with coconut oil and organic aloe vera. Aloe is world famous for its healing abilities, and I just love how aloe butter makes such a luscious healing carrier for blending.
Mango butter is ultra-moisturizing, ideal for skin that's seen a little too much sun, wind, or dry weather. It's similar to shea butter in that way.
This body butter is Helichrysum's skin healing brainchild!


"Heal Me, Helichrysum!" Body Butter
1 oz (28 gm) Beeswax (Cera alba)
2 oz (56 gm) Avocado oil (Persea gratissima)
1 oz (28 gm) Mango butter (Mangifera indica)*
3 oz (84 gm) Aloe butter (Cocos nucifera and Aloe barbadensis)


~ SAFETY NOTE ~
I know a few people who are allergic to mango butter.
If that's the case, you can use cocoa butter (Theobroma cacao) instead.


We're also adding essential oils in a 2% dilution (70 to 84 drops for 7 oz/196 gm):
25 drops Helichrysum (Helichrysum italicum)
35 drops Frankincense (Boswellia carterii)
20 drops Lavender (Lavandula angustifolia)


Directions
Prepare a makeshift double boiler using the "Stovetop Melting Method." Put a Pyrex measuring cup in a cooking pot that's ¼ full of gently boiling water.
Melt the beeswax in the Pyrex.
Add the mango butter (or cocoa butter if you prefer).
Add the aloe butter and stir until all ingredients are melted.
Add the avocado oil. Stir.
Remove your blend from heat and add your essential oils, stirring gently.
Pour your body butter into two 4 oz (120 ml) glass jars. Set the jars aside to cool with the lids placed gently on top (to prevent the essential oils from evaporating).
You can use this body butter every day to let Helichrysum's "dream team" support your skin's health and beauty. Feel free to show extra TLC to dry patches, scars, sunburns, or any area that needs special attention.
---
"Kiss It and Make It Better" with Helichrysum Injury Oil
Helichrysum essential oil just can't stand to see anybody hurt!
It loves to give Aromatherapy massages when friends are in need of some physical or emotional healing.
You can make an injury oil with Helichrysum to deepen the healing impact of any massage. It's especially helpful if you're dealing with an injury. Cramps, sore muscles, aching joints, and torn ligaments or tendons are Helichrysum's areas of expertise.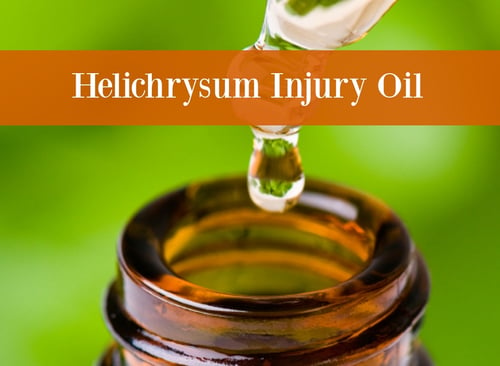 In this injury oil recipe, I'm blending Helichrysum and German Chamomile into Trauma Oil. (Trauma Oil is olive oil that has been infused with three healing herbs: arnica, St. John's wort, and calendula.)


Helichrysum Injury Oil
1 oz (30 ml) Trauma Oil
10 drops Helichrysum (Helichrysum italicum)
8 drops German Chamomile (Matricaria recutita)
Make your injury oil in a 1 oz (30 ml) glass bottle.
German Chamomile and Helichrysum make a perfect pair in this blend. They're both so good at reducing pain and inflammation, and together they work in a synergy to help injuries heal more quickly.
Use this blend as needed on and around areas of injury, strain, tension, and pain. Be gentle and persistent with yourself until you're feeling better.
---
Sensitive Skin Clay Pack with Helichrysum Essential Oil
We human beings are pretty sensitive. Sure, we can act tough, but we all have the ability to feel things very deeply.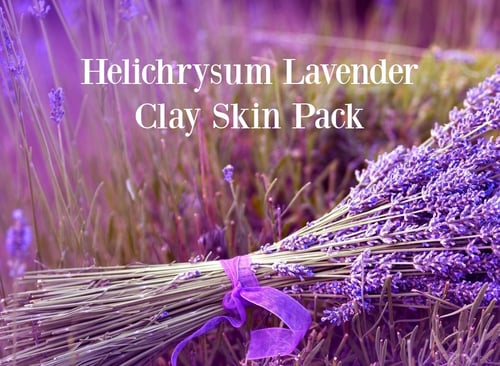 I can't help but see a metaphor for this in our very skin—it can and does keep a lot of dangerous things out of our bodies . . . but it also absorbs a lot, feels a lot, and it can get very irritated.
Sometimes we get stung by something, or bitten, or something rubs us the wrong way and we get a rash.
Helichrysum essential oil can help. It's one of the most nurturing oils I know. It supports us emotionally just as it soothes and heals physical wounds and irritation.
Like Lavender, I use Helichrysum for stings, bites, bruises, rashes, and "I don't know what it is but I don't like it!" skin issues.


This recipe is for a clay pack for irritated skin.
This blend should provide you with at least two clay packs (to be used the same day you make it, or the next day).


Helichrysum Lavender Clay Skin Pack
1 oz (28 gm) French green clay
2 tsp Helichrysum hydrosol (Helichrysum italicum)
9 drops Helichrysum essential oil (Helichrysum italicum)
9 drops Lavender essential oil (Lavandula angustifolia)
Make your blend in a 1 oz (30 ml) jar with a lid. Just stir your hydrosol right into the clay. Add your essential oils and stir until it forms a paste. If you'd like a more liquid texture, add a few more drops of hydrosol. Then dab a generous layer of the clay on your skin and let it work its magic. Rinse it off after about 10 minutes.


Want to see a picture of Helichrysum in bloom,
along with Lavender and Calendula?
I shared some pictures in this blog post about skin healing plants.

---
If Helichrysum could leave you with a closing thought . . .
It would want to remind you that healing is a natural process that can happen on every level—physically, emotionally, mentally.
Whatever kind of healing your body, heart, and mind are reaching for, Helichrysum essential oil wants to help you experience that. It's a friend when you're under the weather, when you've taken a new injury or are trying to heal a very old one, when you need to feel rejuvenated after a long day, when your mind feels stressed, when your heart feels like it needs support . . . and that's just the tip of the Helichrysum "plant iceberg!"
Enjoy your blends!
---
Subscribe to the Aromahead Blog
Get notified when we post a new Essential Oil Spotlight
By subscribing you agree to accept emails from Aromahead Institute.
Topics: helichrysum essential oil, how to use helichrysum essential oil, helichrysum, helichrysum essential oil uses