Gingergrass has beautiful tension-relieving properties.
This is reflected in its effects on the mind and heart—Gingergrass is very uplifting and reassuring, releasing stress and replacing it with confidence that everything is going to be alright.
It contains a component that's also found in Nutmeg and Elemi—elemicin, which is known to inspire optimistic, feel-good thoughts and moods.
Gingergrass also has d-limonene and camphene, which are excellent components to prevent respiratory infection and congestion—so Gingergrass makes sure you feel good physically, too. The recipes in this Spotlight will help you experience different sides of Gingergrass.


---
Gingergrass essential oil has an amazing ability to dissipate tension.
If you've only got time for a quick massage on the shoulders and neck (where a lot of people hold painful tension), Gingergrass is a great choice for a blend. I also recommend it if you've pushed yourself a little too hard during a workout.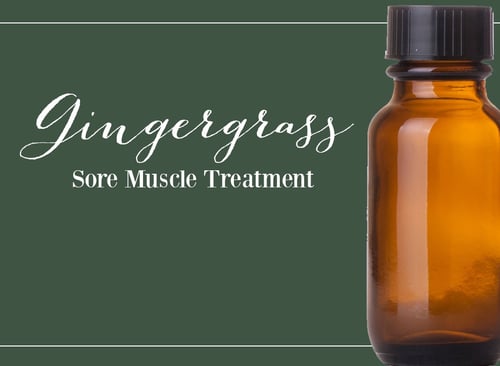 So muscle massage blends with Gingergrass, like the one below, have benefits for the body and mind. Make this blend in a 1 oz (30 ml) glass bottle.
Gingergrass Sore Muscle Treatment
1 oz (30 ml) Trauma Oil
5 drops Gingergrass (Cymbopogon martini sofia)
5 drops Lavender (Lavandula angustifolia)
5 drops Frankincense (Boswellia carterii)
3 drops Peppermint (Mentha x piperita)
Combine all of the ingredients in a 1 oz (30 ml) bottle, shake gently, and apply the blend to sore muscles. It's especially nice on tight necks that don't want to turn.

---
Gingergrass room spray can have a strong impact on our emotions.
With Aromatherapy, you can scent a room to inspire a certain emotion, or to match the spirit of the season. I like to use different room sprays at different times of year.
And I love fun, uplifting scents like Gingergrass.
Here's a room spray to fill your home with enlivening, spirited aroma:
Bright Forest Room Spray
2 oz (60 ml) water
20 drops Gingergrass (Cymbopogon martini sofia)
9 drops Siberian Fir (Abies sibirica)
11 drops Lemon (Citrus limon)
Use a 2 oz (60 ml) spray bottle, and shake your blend before spraying it all around your room. It's nice to spray it on upholstery, so you get a whiff of the aroma when you sit down!
This Gingergrass blend smells like a forest with undertones of citrus and spice! When spring arrives you can try some green, herbaceous notes. During summer, you might like warm, floral scents. Fall might be just right for base notes that help you feel grounded. Get creative!
I recommend making a fresh bottle of this room spray every few weeks, because it's not made with a preservative.
---
Diffuse Gingergrass to reduce stress.
During the holidays, Gingergrass is the perfect essential oil to dispel stress. It has a warm, spicy scent, with hints of fresh herbs and woods.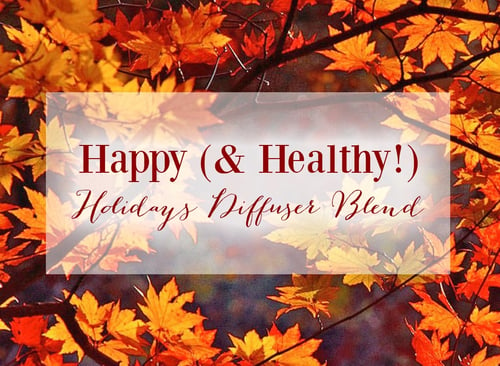 Think of it like a friend who is always laughing through her troubles, and uplifts your heart to remind you of the joy of the season. It protects your emotions and just makes you feel energized for life!
Here's a diffuser blend that fills your home with scent, and fills your heart with energy. It also has respiratory benefits, to help you stay healthy as well as happy.
Happy (& Healthy!) Holidays Diffuser Blend
4 drops Gingergrass (Cymbopogon martini sofia)
6 drops Black Spruce (Picea mariana)
5 drops Orange (Citrus sinensis)
Drop the essential oils into your diffuser and feel joyful!
---
Relieve tension headaches with Gingergrass.
Do you know what causes tension headaches? (No fair saying "tension!")
Neither do I! There are so many potential causes for tension in the head (and muscles). A few causes are stress, food allergies, or lack of sleep... but we don't really know why they turn into headaches or tension in the body.
Gingergrass essential oil doesn't care why tension and headaches happen. It just wants to clear them up and make you feel good again. It does that by relieving muscle spasms and inflammation, and helping your mind let go of worry.
I like to make Aromatherapy inhalers for tension. Here's an inhaler blend with Gingergrass that can clear up tension—whether it's in your head, in your muscles, or in your heart.
Breathe and Relieve Inhaler
4 drops Gingergrass (Cymbopogon martini sofia)
3 drops Rosemary ct. camphor (Rosmarinus officinalis camphor)
7 drops Spike Lavender (Lavandula latifolia)
I get blank Aromatherapy inhalers from Aromatics International. They look like little lip balm tubes. There is a cotton insert in the middle that you drop your essential oils right onto. It's easy!
I know that many people think of applying essential oils topically for muscle tension and headaches, but inhalers can be surprisingly useful. They work by stimulating your limbic system and parasympathetic nervous response (basically, they help you relax and heal). Plus they're convenient to take with you and use in public.
---
Get to know Gingergrass.
I wrote about Gingergrass essential oil in my book, The Heart of Aromatherapy, where I gave it the personality of someone who has been doing yoga for years and years. I thought that was a great way to communicate the way Gingergrass can be used for pain relief, healthy muscles and joints, circulation, relaxation, and respiratory support. (The book includes recipes for all of these things! You can find it at Aromatics International.)
To learn more about other

essential oils

, visit our Essential Oil Spotlights page.
---
Subscribe to the Aromahead Blog
Get notified when we post a new Essential Oil Spotlight
By subscribing you agree to accept emails from Aromahead Institute.
Topics: gingergrass, gingergrass essential oil, how to use gingergrass essential oil, how to use gingergrass, gingergrass essential oil uses