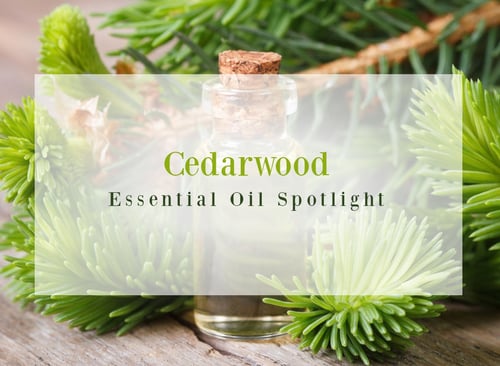 Cedarwood
Cedarwood essential oil has a steady, reassuring strength.
It's versatile, gentle, and powerful. It offers support in a wide range of blends, from respiratory inhalers to skin care creams, and both adults and children love its warm, woody aroma.
Something about Cedarwood reminds me of sitting on a park bench under the shelter of a tall cedar tree.
It offers a sense of security and shelter. Despite its strength, also incredibly gentle and is one of my favorite oils for children. (There's a children's breathing blend below!)


This Essential Oil Spotlight shares ways to use Cedarwood for:


Chest rub to calm cold symptoms
Respiratory health
Keeping your immunity strong
Mental focus
Natural beeswax candles
And more!
I'm using three different Cedarwood essential oils for these blends: Cedrus atlantica, Cedrus deodara, and Juniperus virginiana.
These three Cedarwoods are often good substitutes for each other, but I've included the Latin name in each blend so you'll know exactly which Cedarwood I'm using.


---
Cedarwood Cold Care Chest Cream

Cedarwood essential oil has the ability to see us through tough times.
It can help us move steadily and securely through long projects . . . or through long, cold (sometimes dark) seasons like winter.
This recipe is for a chest cream for kids that's soothing, fortifying, and helpful for both preventing and remedying a cold. It's especially nice at bedtime, when it can calm kids and help them breathe so they drift off comfortably.
It helps open their breathing, calm inflammation, and boost immunity.

Woodsy Chest and Cold Cream
1 oz (30 ml) unscented cream or jojoba (Simmondsia chinensis)
3 drops Cedarwood (Cedrus atlantica)
2 drops Elemi (Canarium luzonicum)
1 drop Lemon (Citrus limon)
Directions
Just blend your essential oils into your skin cream or jojoba. For skin cream, use a 1 oz (30 ml) glass jar. For jojoba, use a 1 oz (30 ml) bottle.
I recommend using this blend (and any essential oil blend) for kids over five years old. Rub it on their chest, shoulders, and neck every few hours and before bed.
If you decide to use unscented natural cream for this, you can use any kind you like. Lotion works great, too! Aromatics International has a beautiful natural, unscented lotion that I love.


---
Cedarwood Essential Oil "Breathe Easy" Diffuser Blend

Cedarwood is such a supportive essential oil for respiratory health—especially for children, who love its sweet foresty scent.
Its decongestant properties can protect kids against colds, and can help them recover more quickly if they come down with one.
When I create a diffuser blend that I love, I make a stock bottle of it—I increase the recipe and put it in a 5 ml amber glass bottle. That way I can use the blend multiple times without having to run all over the house gathering the right essential oils.
So if I typically use 10 drops in a diffuser, and increase the recipe six times, I have 60 drops (and six uses) in my stock blend.
Here's a great stock blend you can make with Cedarwood essential oil and Orange!

Breathe Easy Diffuser Blend
40 drops Cedarwood (Cedrus atlantica)
20 drops Orange (Citrus sinensis)
Use 5–10 drops in an electric diffuser, and run it for 15-30 minutes in the room where the child is playing. You can do this a few times a day.
This blend's calm, steady properties make it perfect to diffuse before a child's bedtime, too. Just run the diffuser for half an hour, and turn it off when bedtime actually arrives.
The Breathe Easy blend is generally fine to diffuse in a room with kids of any age,
as long as the diffuser is safely out of reach and not right under their noses.


---
Diffuse Cedarwood Essential Oil for Immunity and Mental Focus

This foresty diffuser blend is a friendly companion that helps you focus and supports your immune health.
It's made with a trio of beautiful conifer oils. The scent of each one is a little different, but since they're all conifers, they work in beautiful synergy and complement one another perfectly! You might even get the sense that this blend is one unique oil, instead of three oils blended together.
You can make this stock blend in a 5 ml orifice reducer bottle.
Forest Diffuser Blend
20 drops Cedarwood (Cedrus deodara)
20 drops Hemlock (Tsuga canadensis)
20 drops Balsam fir (Abies balsamea)
If you have an electric diffuser, use about 5-10 drops of your blend.
Do you have a wood stove? Try putting a cast iron pot filled with water on top of it, and add 5-10 drops of your blend. (This is one of my favorite ways to diffuse essential oils in winter!)
You can also use a stovetop soup pot. Just boil some water, turn off the stove, and add 5-10 drops of your blend.
Or you can just place a bowl of steaming water on the counter. Be sure to set it on a heat-safe surface, such as a trivet, and be careful when handling the hot bowl.
This blend will make your room smell so beautiful and foresty . . . and the essential oils are great for immunity and feeling mentally clear!


---
Cedarwood Essential Oil Goes Great in Beeswax Candles!

Have you ever made your own natural beeswax candles?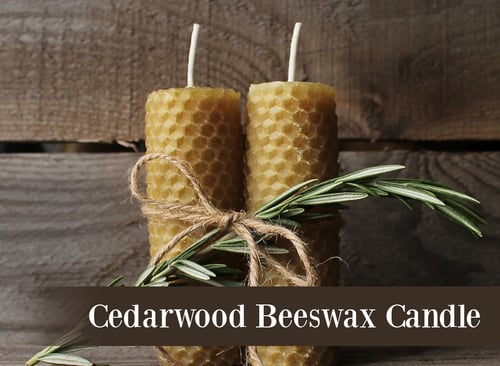 It's such a fun hobby! And it's reassuring to know that your only two ingredients are beeswax and essential oils.
Cedarwood is a great essential oil to use when making candles because it's a base note.
It has a long-lasting aroma that can fill the entire room as the candle burns.
The basic recipe is 25 drops of essential oil (about 1 ml) for every 1 oz (28 g) of beeswax.
One of my favorite essential oil combinations is:
½ Cedarwood (Juniperus virginiana)
½ Vetiver (Vetiveria zizanoides)
I made a 6-minute video recipe showing you how to make beeswax candles.
The video also demonstrates how simple and quick making candles is. You really don't need a lot of time!


---
As I mentioned, I used several different kinds of Cedarwood Essential Oil in this Spotlight.
They all work great!
In my book, The Heart of Aromatherapy, I imagined that if Cedarwood (Juniperus virginiana) had a personality, it would teach people to use essential oils to care for kids in schools and care centers. Cedarwood has that kind of nurturing character, and is very supportive oil to have on hand for children. It's gentle enough that it won't overwhelm their smaller systems, and it doesn't sacrifice a bit of strength for that gentleness.
Not sure which Cedarwood would work best for you? Why not try them all and compare them?
To learn more about other

essential oils

, visit our Essential Oil Spotlights page.
---
Subscribe to the Aromahead Blog
Get notified when we post a new Essential Oil Spotlight
By subscribing you agree to accept emails from Aromahead Institute.
Topics: cedarwood essential oil, Cedarwood, how to use cedarwood, how to use cedarwood essential oil, cedarwood essential oil uses, cedarwood uses