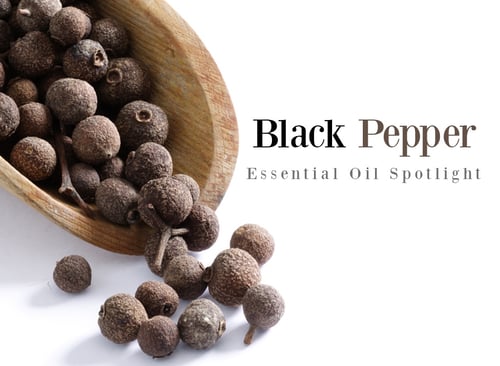 Black Pepper essential oil (Piper nigrum) likes to get things done, so you won't have to wait around to feel its benefits.
Even a few drops of Black Pepper in a blend can offer quick effects.
You can think of Black Pepper essential oil like a friend who has a lot of energy—always seeming to get twice as much done as everyone else—and whose insights always get straight to the point.
Black Pepper essential oil would be a great friend to have at work, quickly identifying problems and solutions, saving everyone a lot of time and headaches. If it's in a meeting and the conversation starts going in circles, BP (our nickname for Black Pepper) will step in and gently but confidently redirect it. BP is considerate and in command. What a great ally!
Here are five ways you can use Black Pepper essential oil (plus a bonus way it can support you!)
---
Try Black Pepper essential oil for stress-free digestion.
One way Black Pepper keeps things moving is by supporting digestion. Do you ever eat lunch at your desk? Working lunches can be a little stressful, which can slow down digestion and lead to some discomfort. You can keep this digestive oil in your desk for such occasions.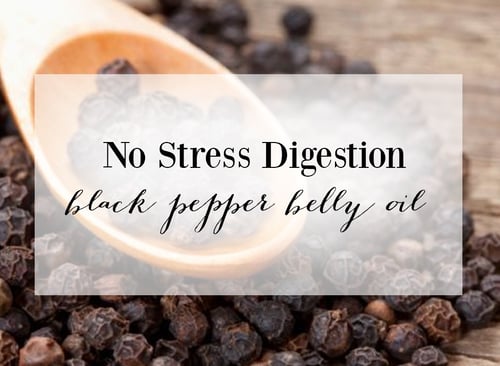 Ingredients:
1 oz (30 ml) Coffee-flower-infused jojoba (Simmondsia chinensis)
5 drops Black Pepper essential oil (Piper nigrum)
8 drops Mandarin essential oil (Citrus reticulata)
Directions:
Make your blend in a 1 oz (30 ml) glass bottle.
Massage it into your belly and low back before or after you eat (or both).
Take a five-minute break and smile!
The coffee-flower-infused jojoba in this recipe is another way to feel caffeinated at work . . . just kidding! There's no caffeine in it, and it doesn't even smell like coffee—it has a soft, floral aroma.
The coffee flowers are picked in September in Madagascar (the only time of year the trees are in bloom), and allowed to infuse in pure jojoba wax. After three to four weeks, the jojoba wax retains the aroma of the blossoms. The scent is divine! You can read more about the process, and how you can use coffee-flower-infused jojoba, by clicking here.
---
Warm up for your workout with Black Pepper essential oil.
It sometimes takes a little extra pep to get yourself to work out. Black Pepper essential oil says that's no reason to skip the gym. It's there to help you get warmed up and energized (like a personal trainer!).
You can make a warm up butter with Black Pepper to massage your muscles before you work out. It's a great way to loosen them up, get your blood flowing, and avoid sudden cramps.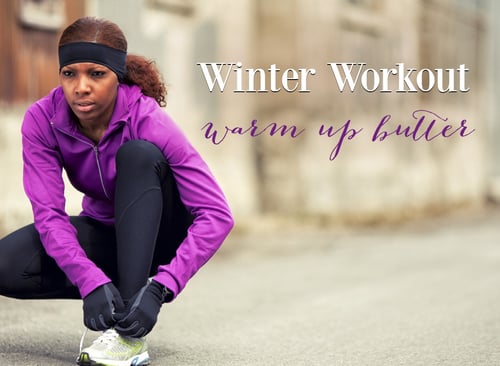 Ingredients:
1 oz (30 ml) Calendula-infused oil (Calendula officinalis)
2 oz (56 gm) Babassu oil (Orbignya oleifera)
1 oz (28 gm) Beeswax (Cera alba)
17 drops Black Pepper essential oil (Piper nigrum)
20 drops Rosemary essential oil (Rosmarinus officinalis camphor)
35 drops Orange essential oil (Citrus sinensis)
Directions:
You'll need four 1 oz (30 ml) glass jars, or two 2 oz (60 ml) glass jars.
Create a "double boiler" by placing a Pyrex measuring cup in a cooking pot that's ¼ full of simmering water.
Put the beeswax in the Pyrex. The hot water will gently melt the beeswax through the Pyrex.
Add the babassu oil to the Pyrex. Babassu oil is sometimes called a butter, because it can be a liquid or a solid depending on the temperature it's stored at (similar to coconut oil). Either way, it can withstand heat well. It absorbs quickly, so your muscles can quickly benefit from the oils before (and during) your workout.
Add the calendula-infused oil.
Remove the blend from heat.
Add your essential oils, stirring gently with a glass stir rod.
Pour your butter into the glass jars and let it cool. I like to place the lids of the jars gently on top while the butter cools, so the essential oils don't evaporate. This blend is a 3% dilution of essential oils—perfect for warming up your muscles!
Massage your muscles with your Winter Workout Warm Up Butter before you stretch, then enjoy your workout!
If you don't need a warm up butter for exercising, but still want to use Black Pepper essential oil to get your circulation going, here's a warming moisturizing blend with Black Pepper and Cardamom (and a few other oils!). It's made in a simple base of jojoba.
---
Got cold feet? Black Pepper essential oil wants to give you a pep talk!
Black Pepper's warm, spicy energy is confident and encouraging, both physically and emotionally.
Its "straight to the heart" style offers support where you need it most. If it's physical warmth you need, Black Pepper is there for you in that way too!
Here's a foot scrub that can really warm your cold feet. I love this blend in cold weather (okay, it's true, I live in a warm climate but I used to live in a very cold one!). First I soak my feet in a small tub of warm water, then I use my scrub. (If you'd like to make a foot scrub that isn't too warming and is perfect for summery weather, try the coconut sugar and Tea Tree scrub in this YouTube video I made.)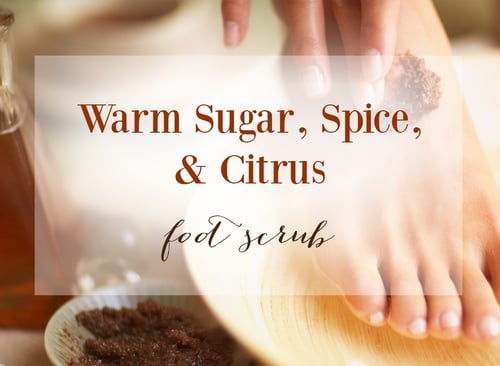 Ingredients:
2 oz (56 gm) brown sugar
1 oz (30 ml) vanilla-infused jojoba (Simmondsia chinensis)
8 drops Black Pepper essential oil (Piper nigrum)
10 drops Sweet Orange essential oil (Citrus sinensis)
12 drops Frankincense essential oil (Boswellia carteri)
Directions:
Make your blend in a 4 oz (120 ml) jar. (The blend is for 3 oz/90 ml, so you'll have a little space left over in the jar.) I usually use glass for my blends, but if you're concerned about dropping the jar with slippery hands, you can use PET plastic. It's known as a non-reactive plastic that doesn't leach.
This is enough for three foot scrub sessions.
The vanilla-infused jojoba offers a beautiful, warm, skin nourishing base for the spicy, citrus, and resinous oils. You can buy it ready made, or you can make your own. Here's a blog post that explains how to make it.
---
Black Pepper essential oil is great for all sore joints!
Arthritis can be an acute kind of pain that we want to take care of quickly, but it's also ongoing.
Black Pepper essential oil is so helpful in cases like this! It steps in and offers quick relief, and then it hangs around for a while to be sure the pain doesn't "sneak back in."
In this recipe for arthritis oil, we're blending Black Pepper and other pain relieving essential oils into a base of Trauma Oil. Trauma Oil is a skin-nourishing, pain-reducing oil made by infusing three herbs (arnica, calendula, and St. John's wort) in a base of carrier oil—usually that's olive oil.
Trauma Oil is very therapeutic all by itself for conditions that affect the joints and muscles, and when we blend soothing essential oils into it, we can take the pain relief even further. (Another great carrier for joint pain is kombo butter. You can read about it here!)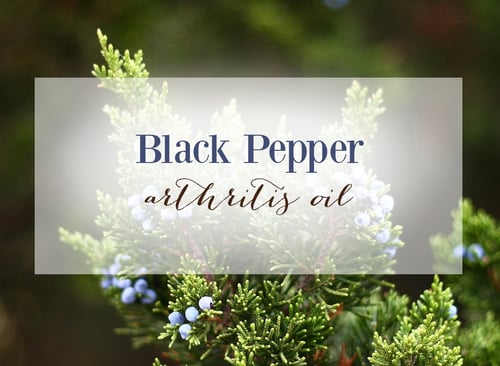 Ingredients:
1 oz (30 ml) Trauma Oil
5 drops Black Pepper essential oil (Piper nigrum)
4 drops Juniper Berry essential oil (Juniperus communis)
3 drops Lemon essential oil (Citrus limon)
6 drops Lavender essential oil (Lavandula angustifolia)
Directions:
Make your blend in a 1 oz (30 ml) glass bottle. Just pour your Trauma Oil into the bottle, then add your essential oils drop by drop. Screw on the lid, shake gently, and you're done!
Massage your hands and sore joints with this blend several times a day—as often as you need the relief.
---
Can't stop coughing? This Black Pepper inhaler recipe can help!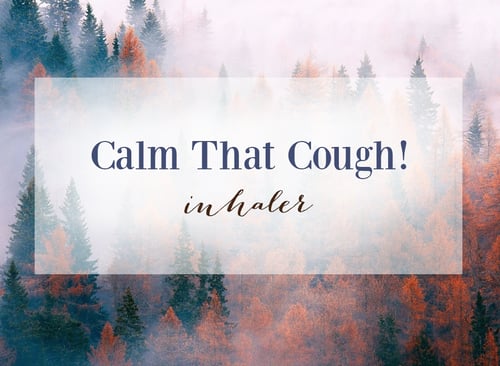 Black Pepper essential oil is one of my favorites for calming coughs. It's a great companion if you're dealing with spastic coughs that won't let you get out a full sentence.This inhaler recipe combines Black Pepper with Frankincense and Black Spruce essential oils, both of which are excellent for coughs and respiratory issues.
Ingredients:
5 drops Black Pepper essential oil (Piper nigrum)
5 drops Frankincense essential oil (Boswellia carterii

)

5 drops Black Spruce essential oil (Picea mariana)
You can watch me make and use an inhaler in this video to see just how it's done.So take care of that cough!
---
Speaking of coughing…Black Pepper can help support you to quit smoking, too.
Black pepper essential oil has been used to help people quit smoking—even those who have been smoking for years. From an energetic perspective, it helps reduce fear and motivate change. It is warming, grounding, and can reduce stress.
I'd like to share an inhaler recipe I created for a friend who was going through some life changes and had begun to rely on cigarettes to get him through. He asked for a recipe to help him quit so that he can let go of the habit. The decision to quit smoking is powerful, and using essential oils to help is Aromatherapy at its best—powerful aromatic support when breaking an addiction and a habit.
This recipe utilizes three oils: Black pepper, Frankincense, and Bergamot—a lovely blend from the olfactory perspective. Bergamot is fantastic for easing stress and anxiety (triggers for reaching for a cigarette), and energetically it relaxes and restores. Finally, Frankincense acts like an olfactory and energetic bridge between the Black Pepper and Bergamot!
Ingredients:
5 drops Black Pepper (Piper nigrum)
5 drops Frankincense (Boswellia carterii)
5 drops Bergamot (Citrus bergamia)
---
If Black Pepper had its way, everyone would be focused on what makes them feel best in life.
From eating foods that make you feel radiant and are easy to digest, to exercising, to quitting habits like smoking—Black Pepper can support you to be your best self in so many ways. It's especially a fan of making "wellness lists" and sticking to them, so it can keep track of how good it feels. (And it can actually be helpful to track how certain oils and blends affect you, so you know which ones to lean toward more in your life.)
Enjoy!
---
Subscribe to the Aromahead Blog
Get notified when we post a new Essential Oil Spotlight
By subscribing you agree to accept emails from Aromahead Institute.
Topics: black pepper essential oil, how to use black pepper essential oil, black pepper essential oil uses, quit smoking with essential oils