Bergamot (Citrus bergamia)
I often find Bergamot essential oil to be like a familiar stranger . . . it's a citrus so its scent is very familiar, but at the same time it's a bit exotic. We don't commonly eat Bergamot fruits because they're too sour.
We primarily use Bergamot for its bright, sparkling aroma.
Like other citruses, Bergamot essential oil is uplifting and optimistic. But it's also relaxing, like Sweet Orange.
Gabriel Mojay, author of Aromatherapy for Healing the Spirit, sums it up when he says Bergamot helps us to "rediscover spontaneity and optimism. Bergamot essential oil helps us to relax and 'let go'."


This Spotlight explores ways to use Bergamot essential oil safely for:
Relaxation
Muscle tension
Stress relief
Digestion
Optimism and positivity
And more!
Before I share the recipes, I want to talk about a safety issue for Bergamot essential oil . . .
*****
An important safety note for Bergamot essential oil:
It's important to mention that when Bergamot essential oil is cold pressed it becomes what we call "phototoxic."
What does phototoxicity mean?
Phototoxicity is a reaction to sunlight, which can cause burning, blistering, and discoloration (abnormally dark patches and red areas) of the skin.
Some essential oils are termed "phototoxic," since they increase the likelihood of a phototoxic reaction. Bergamot is just such an essential oil.
This doesn't mean that we can't use Bergamot essential oil in topical blends. It just means that we need to be careful to apply blends with Bergamot under our clothes, where the skin won't be exposed to sun or UV light for 18 hours.
According to Robert Tisserand, Bergamot essential oil is safe for topical use at 2.4 drops per oz (30 ml) of carrier. I always think of that as just 2 drops, to play it safe.
Now that we have the safety information clear, let's get on to the recipes!
*****
---
Bergamot: A Sunny Essential Oil that Prefers the Shade?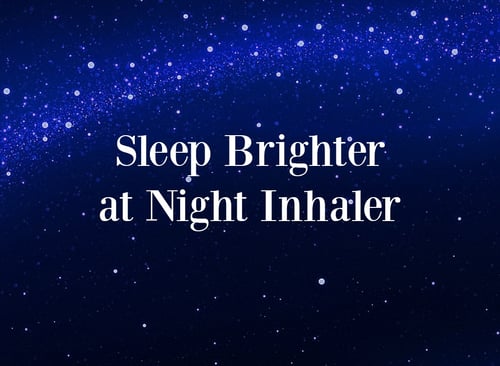 Bergamot is one of the brightest, sunniest essential oils I know . . . but it's also a bit of a paradox.
Because even though it's so sunny . . . it doesn't actually like to be out in the sun! It's been burned one too many times, and it knows better now.
Bergamot is like a Massage Therapist that only opens for business in the evening.
This suits it just fine, as it also loves to help us relax and release tension we may have accumulated throughout the day—physical and emotional.
If you've had an active day in the sun, Bergamot will massage your tired muscles in the evening. It will ease tension and cramps, and keep you feeling good.
This recipe is for a nighttime muscle Inhaler.
Sleep Brighter at Night Inhaler
10 drops Bergamot (Citrus bergamia)
5 drops Patchouli (Pogostemom cablin)
You can keep it by your bedside to use before bed, or if you wake up in the middle of the night feeling tense.


Never made an Aromatherapy Inhaler?
Learn How! (+ get 3 more recipes!)


---
Bergamot Essential Oil Inhaler for Stress Relief

Bergamot doesn't want you to worry or feel tense about anything.
It's the friend who notices when you're stressed out, and takes a moment to rub the tension from your shoulders and remind you that life is good. So it eases your stress physically and emotionally.
This is an inhaler recipe that can accomplish the same things.
"Life is Good and So am I!" Inhaler
8 drops Bergamot (Citrus bergamia)
3 drops Geranium (Pelargonium roseum x asperum)
4 drops Sweet Orange (Citrus sinensis)
You can carry your inhaler with you in a pocket or your bag, and use it anytime, anywhere. That's one reason Aromatherapy inhalers are so convenient.
As I mentioned above, when you're using Bergamot in topical blends, be aware of its phototoxicity. However, your inhaler doesn't pose any of these concerns, since it's not a topical blend that gets applied directly to the skin.


---
Digestion is a Breeze with Bergamot essential oil!

Bergamot essential oil is famous for its ability to promote digestion.
While it loves good food, it doesn't love that "uncomfortably full" feeling. So after eating a rich meal, Bergamot goes for long, slow walks, or sits on its back porch in a rocking chair with a cup of Earl Grey tea to sip. It likes to stay relaxed and keep things moving.
You can use this Belly Butter to release tension in your belly, ease digestion, and just feel relaxed.


Happy Belly Butter
½ oz (14 gm) Beeswax (Cera alba)
1 oz (28 gm) Coconut oil (Cocos nucifera)
1.5 oz (45 ml) Jojoba wax (Simmondsia chinensis)
20 drops distilled Lime (Citrus aurantifolia)
15 drops Roman Chamomile (Chamaemelum nobile)
6 drops Bergamot (Citrus bergamia)
Directions
Prepare a double boiler using the "Stovetop Melting Method." Just place a Pyrex measuring cup in a cooking pot that's ¼ full of gently boiling water.
Melt your beeswax in the Pyrex.
Add the jojoba wax.
Add the coconut oil.
Stir and remove the blend from heat.
Add your essential oils, stirring gently.
Pour your blend into a 4 oz (120 ml) glass jar, and set it aside to cool.


Use your Happy Belly Butter after a big meal, or to help you digest when you're feeling nervous or tense about something. Massage it into your belly and low back under your clothes.
If you'd rather not use Bergamot essential oil topically at all, you can substitute Sweet Orange (Citrus sinensis) in this recipe. If you do use Bergamot in your Happy Belly Butter then it's important to use the blend under your clothes where your skin won't be exposed to sunlight for at least 18 hours, because Bergamot is a phototoxic essential oil.
If you don't have one of the essential oils in the Belly Butter blend, swap it out for one of the oils in this recipe. (This is another helpful blend for tummy trouble!)


---
"A Few of My Favorite Things" Bergamot Diffuser Blend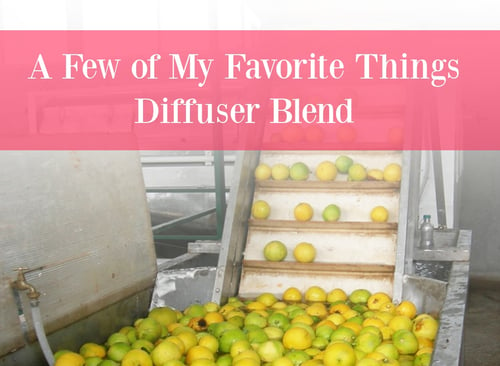 Imagine you've had a long day . . .
You've solved problems, run errands, gotten things done, and now you've finally got a few hours all to yourself.
How are you going to spend them?
Maybe you like to relax and have fun in the kitchen making food (or Aromatherapy blends!) Maybe you like to dance around your house! Maybe you like to garden, paint, or just to take a nice warm bath.
Whatever you like to do, Bergamot essential oil can help you get into that mindset.
Bergamot loves taking you from "I'm so busy!" to "I'm in my element!"
Bergamot will get the scene all set for you: opening windows to let in fresh air, tidying up the place, and (of course) diffusing essential oils. Its goal is to help you relax and feel good.
A Few of My Favorite Things Diffuser Blend
5 drops Bergamot (Citrus bergamia)
4 drops Roman Chamomile (Chamaemelum nobile)
3 drops Sweet Orange (Citrus sinensis)
3 drops Lavender (Lavandula angustifolia)
I hope this diffuser blend helps you connect with what's important to you!


---
If Bergamot essential oil were to invite you to its house . . .
It would definitely be during the evening! Bergamot prefers staying out of the sun, so it would love having outdoor evening parties, with fun lanterns and fairy lights strung overhead for everyone to dance under. Its warm citrus scent is great for evenings, too. It's a comforting, soft citrus aroma that helps you feel uplifted and relaxed, releasing worries before bedtime.
I hope this essential oil Spotlight has answered some questions for you about how to use Bergamot essential oil, and helped you understand the phototoxicity aspect of it. Bergamot really is a friendly, nurturing oil to have in your collection . . . as long as you know how to use it safely.
Enjoy!
---
Subscribe to the Aromahead Blog
Get notified when we post a new Essential Oil Spotlight
By subscribing you agree to accept emails from Aromahead Institute.
Topics: bergamot essential oil, bergamot essential oil uses, how to use bergamot essential oil, bergamot phototoxic, phototoxic