Ylang Ylang essential oil has a strong, peaceful presence.
The first time we saw Ylang Ylang was in Belize. I just couldn't believe how much rich scent came from that one tree, and the colorful toucan sitting up in the branches was like the cherry on top of the whole thing!
Years later, we planted two Ylang Ylang trees in our front yard. Their sweet scent reached far enough that our neighbors several houses away were breathing deeply and feeling relaxed.
All of that aroma is beautifully distilled in the essential oil. Just a few drops are usually enough to add softness and heart to a blend. Here are a few ways you can incorporate Ylang Ylang's open heartedness in your own blends.
---
Travel far and wide with Ylang Ylang at your side.
When you travel, you have the special opportunity to experience new places and make new friends.
But if you're feeling off center or tense after a journey, sometimes you don't feel present enough to connect with new places and people. It's like your heart is just a little too tired to open to something new just yet.
Rest and relaxation usually does the trick.
I like to promote that with comforting, heart-opening linen sprays for hotel sheets. Ylang Ylang essential oil is the perfect ingredient. Ylang Ylang is said to help us connect with ourselves, so we're more able to connect with the world.
To make a linen spray in a 1 oz (30 ml) spray bottle, combine:
1 oz (30 ml) water
3 drops Ylang Ylang (Cananga odorata)
12 drops Sweet Orange (Citrus sinensis)
2 drops Neroli (Citrus aurantium var. amara)
Shake well and spritz it all over your hotel linens. (Another perk: The warm, floral aroma masks the sometimes harsh scent of hotel detergents.) You can also use this as a room spray so your hotel room feels more like home.
I bet you'll go through this blend quickly, but I still want to note that you should make a fresh bottle every few weeks (it's not made with preservatives).
---
Massages with Ylang Ylang sooth the body and heart.
Two words that come to mind when I think of Ylang Ylang essential oil are "strong" and "gentle." It's such a tender, soothing oil, but it has a big presence!
This makes it a good ingredient in massage blends for pain relief, which sometimes smell more medicinal than we want them to. Just one drop of Ylang Ylang can round out the edges of an aroma with a beautiful floral note—such as in this blend for chronic pain.
Massage Away Chronic Pain
1 oz (30 ml) Trauma Oil
3 drops Ginger (Zingiber officinale)
2 drops Black Pepper (Piper nigrum)
4 drops Orange (Citrus sinensis)
8 drops Spike Lavender (Lavandula latifolia)
1 drop Ylang Ylang (Cananga odorata)
Make this blend in a 1 oz (30 ml) glass bottle. Massage yourself, focusing on painful areas and taking your time.
---
Moisturize and care for skin with Ylang Ylang.
The Ylang Ylang trees we planted in our yard gave us such joy. One year, we even found that an owl had made her nest and had babies in one of them.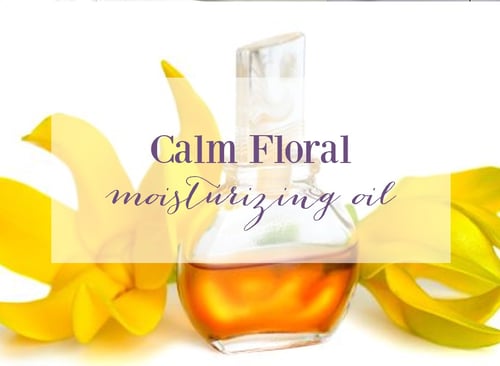 Now that's Aromatherapy in action! I am so inspired by the way nature creates such harmony.
If you don't have an Ylang Ylang tree, you can make this body oil blend. (Yes, it's a substitute, but it's a great one!)
Calm Floral Moisturizing Oil
1 oz (30 ml) jojoba (Simmondsia chinensis)
2 drops Ylang Ylang (Cananga odorata)
5 drops Lavender (Lavandula angustifolia)
4 drops Blue Tansy (Tannacetum annum)
Use a 1 oz (30 ml) glass bottle. Then use your body oil as moisturizer or perfume as often as you like.


---
Ylang Ylang is great for dry, chapped skin.
If you're in a hot, dry climate, you could have no better friend than Ylang Ylang essential oil (except maybe a saltwater swimming pool).
Ylang Ylang is a very cooling oil with wonderful moisturizing properties. I love it in blends for dry, chapped skin (and that can happen no matter what climate you're in). Here's a blend for a deely nourishing, luscious butter for dry, chapped skin.
2 oz (56 g) beeswax (Cera alba)
2 oz (60 ml) calendula oil (Calendula officinalis)
1 oz (30 ml) neroli-infused jojoba (Simmondsia chinensis)
2 oz (56 g) palm kernel oil (Elaeis guineensis)
4 oz (112 g) coconut oil (Cocos nucifera)
2 oz (56 g) shea butter (Butyrospermum parkii)
1 oz (28 g) cocoa butter (Theobroma cacao)
35 drops Ylang Ylang (Cananga odorata)
60 drops Orange (Citrus sinensis)
45 drops Patchouli (Pogostemom cablin)
Directions
First, set up the Stovetop Melting Method: Put a Pyrex measuring cup that holds at least 14 oz (½ liter) in a soup pot that's ¼ full of gently boiling water.
Melt the beeswax and neroli-infused jojoba together in the Pyrex.
Add the cocoa butter and stir gently until melted.
Add the coconut oil and palm kernel oil, and stir gently until melted.
Add the shea butter, and stir gently until melted.
Remove the blend from heat.
Add the calendula oil and stir until combined.
Add the essential oils and stir gently.
Pour the blend into seven 2 oz (60 ml) glass jars.
This blend makes about 14 oz (420 ml). I keep the jars that I'm not using immediately in the refridgerator for longer shelf life.
Does it seem like a lot of essential oil? That's because the recipe makes 14 oz (420 ml) of body butter!
Does it seem like a lot of body butter? That's because dry, chapped skin needs extra love!
So use your body butter every day, and enjoy!
---
Get to know Ylang Ylang.
A little Ylang Ylang goes a long way to add heart and depth to Aromatherapy blends. This is one of those aromas that can seem to change dramatically when blended with other oils (as long as it's used in small amounts).
To learn more about other

essential oils

, visit our Essential Oil Spotlights page.
---
Subscribe to the Aromahead Blog
Get notified when we post a new Essential Oil Spotlight
By subscribing you agree to accept emails from Aromahead Institute.
Topics: ylang ylang, ylang ylang essential oil, how to use ylang ylang essential oil, how to use ylang ylang, ylang ylang essential oil uses