Tea Tree (Melaleuca alternifolia)
Tea Tree is perhaps the most famous antimicrobial essential oil, and with good reason!
Tea Tree's main actions—antimicrobial, antiviral, anti-inflammatory, and anti-allergy—combine to create good immune system support. Tea Tree essential oil is also good at reducing germs in the environment, making it an excellent addition to natural cleaning blends.


Tea Tree's Essential Oil Spotlight will show you how to use the oil for:
Reducing germs
Cleaning cuts and scrapes
Natural cleaning
Prevent colds and the flu
Calm sniffling, sneezing, and just about any respiratory discomfort!
Reduce fungi and molds
And plenty more!


---
Tea Tree Essential Oil to Help Prevent Infection

If I get a cut and put Tea Tree essential oil on it, my mind is instantly put at ease that I'm less likely to get an infection.
Tea Tree is effective against a wide range of germs . . . which makes it a great companion if you have kids.
Here's a recipe for an antimicrobial cuts and scrapes blend designed for kids.
Clean Cuts & Scrapes for Kids
1 oz (28 g) aloe vera gel (Aloe barbadensis)
2 drops Tea Tree (Melaleuca alternifolia)
2 drops Lavender (Lavandula angustifolia)
2 drops Frankincense (Boswellia carterii)


You can make this blend in a 1 oz (30 ml) spray bottle, or use a flip-top bottle and dab some on a piece of cotton to use it.


All three essential oils in this blend work together to clean up that cut or scrape!
Tea Tree helps kill germs.
Lavender soothes the pain, reduces inflammation, and helps tissues heal.
Frankincense also helps skin heal, and offers some emotional support if the child is upset. (Lavender does this, too!)
I use this blend with kids who are at least five years old. I recommend making a fresh bottle of it every few weeks, since there is no preservative in it.


---
Tea Tree Natural Cleaning Spray (for the gym & yoga!)

Massage tables, yoga mats, and workout equipment are all things we use to stay healthy.
That's why it's so unfortunate that microbes can linger on their surfaces (especially on shared equipment). Nobody wants to get sick while they're trying to stay healthy! Cleaning the equipment is important.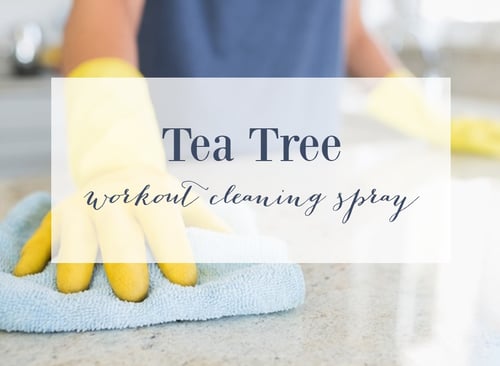 I know that when I use Tea Tree essential oil, I won't have to worry about germs that could make me sick. It reduces microbes and inspires confidence, so I can relax into my massage or give my all to my workout.
Here's a spray to clean your own tables and equipment.
Tea Tree Workout Cleaning Spray
1 oz (30 ml) water
8 drops Tea Tree (Melaleuca alternifolia)
5 drops Lemon (Citrus limon)
10 drops Grapefruit (Citrus paradisi)
Make your blend in a 1 oz (30 ml) glass spray bottle.
I find the fresh, bright scent of this blend so reassuring and uplifting! It clears my mind of distractions and helps me enjoy myself.
As with the Cuts and Scrapes blend above, this isn't made with a preservative, so you'll want to make a fresh bottle every few weeks.


---
Tea Tree Steam to Stop a Cold

A great way to use Tea Tree to reduce respiratory infections is to inhale it.
In his Complete Guide to Aromatherapy, Salvatore Battaglia says:
"The Australian aborigines have long recognized the virtues of Tea Tree.
The leaves were simply crushed in the hand and
the volatile oil inhaled to relieve colds and headaches."
You can get these benefits by doing a steam the moment you feel a cold coming on.
Steam & Stop This Cold Now!
25 drops Tea Tree (Melaleuca alternifolia)
25 drops Ravintsara (Cinnamomum camphora ct. 1,8 cineole)
25 drops Black Spruce (Picea mariana)
Drop your oils into a 5 ml bottle with an orifice reducer. This is your "stock blend," and you can use it many times, since you'll only be using 1 drop for your steam.
Add 1 drop to a bowl of steaming water, close your eyes, and lean over the bowl to inhale the steam. I really want to emphasize that it's important to close your eyes! The fumes from the essential oils are strong (it's what opens your sinuses and can unclog them!), and we don't want to expose our eyes to them.
The steam is potent, which is the reason we're only using 1 drop of our essential oil blend. If you accidentally get more than 1 drop of essential oil in your bowl of steamy water, you can just set the water aside and let it diffuse into the air in the room. Start over with another bowl of steamy water.
If you like, you can drape a towel over your head while you steam. It makes a little "tent" to concentrate the steam!



Repeat several times a day for a week, then pause a few days, then repeat for another week.


---
Tea Tree Essential Oil Feet Treat (to reduce fungus!)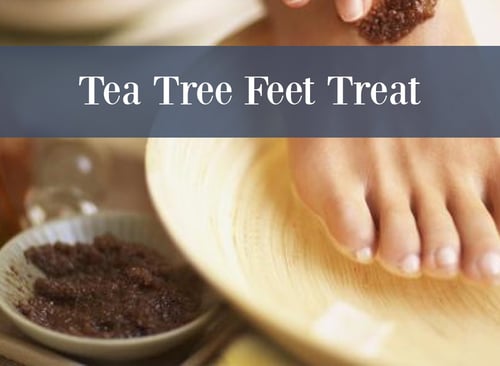 It always amazes me how quickly and effectively Tea Tree essential oil calms fungus! It is right at home in blends that clear up foot infections.
But I prefer to prevent these conditions from ever setting in (and I'm sure you do, too!). This is a luxurious foot scrub that will make your feet feel smooth and pampered, and prevent fungus at the same time.
Tea Tree Feet Treat
1 oz (28 g) coconut sugar
1 oz (30 ml) avocado oil (Persea gratissima)
10 drops Tea Tree (Melaleuca alternifolia)
Make this blend in a 2 oz (60 ml) glass jar. First add your coconut sugar and avocado oil, stirring them both together. Then stir in your Tea Tree oil. That's all there is to it!
Use this foot scrub in the bath or shower (but be careful—it makes the floor slippery!), or use it during a foot soak.


---
Bye Bye Bathroom Mold! Tea Tree Essential Oil Cleaner

If any natural cleaning agent can remove mold, that would have to be Tea Tree essential oil. Tea Tree is a powerful antifungal.
It also promotes health and immunity. So when you're cleaning, you don't have to worry about toxic chemicals. You're actually getting healthier along with your home!
Bye Bye Bathroom Mold
½ cup borax (a natural mineral salt)
2 tbsp vinegar
30 drops Tea Tree (Melaleuca alternifolia)
Directions
Combine all your ingredients in a plastic container with a lid. You can even use your hands to mix it up! The consistency should be paste-like.
Just apply a bit to the moldy area, then scrub it off and rinse with water.
For extra cleaning, you can spray the area with hydrogen peroxide after you apply the mixture, or let it sit on the mold for about an hour before scrubbing it off.
I use this Tea Tree mold remover in my bathroom every week. It's also good at preventing mold from ever setting in (which I'd rather do than try to remove it). We don't even need gloves to use it!

If any natural method will work against mold, this is the one!
It may not solve all your mold problems, but it's worth a shot.


---
Tea Tree has pretty high standards for health and cleanliness . . .

That makes it a good friend to keep around!
If you'd like to learn more ways to use Tea Tree to stay healthy and keep your home clean, you might be interested in Aromahead Institute's online class,
Aromatherapy for Natural Living
Aromatherapy for Natural Living is one of our most popular classes!
You'll learn more ways to replace chemical cleaning supplies with affordable, non-toxic alternatives you can make yourself, and to make your own body care products such as cream, lip balm, and bath salts. Just replacing the potentially toxic chemicals that surround you with more natural (and no less effective!) versions can have a HUGE impact on your health. Not to mention the natural versions smell better!
I hope you can join us in class!
---
Subscribe to the Aromahead Blog
Get notified when we post a new Essential Oil Spotlight
By subscribing you agree to accept emails from Aromahead Institute.
Topics: tea tree essential oil, how to use tea tree, how to use tea tree essential oil, tea tree, tea tree essential oil uses