The Ancient Greek Pliny said the very smell of Peppermint (Mentha x piperita) "recovers and refreshes the spirit."
In The Complete Guide to Aromatherapy, Salvatore Battaglia says Peppermint may be beneficial for people who have mental fatigue, and can help us be clear-headed.
In Aromatherapy for Healing the Spirit, Gabriel Mojay says Peppermint "enhances our receptive capacities on both mental and spiritual levels."
I've found all this to be true, and I bet you will, too.
Before we jump into the recipes, let's talk about a few important safety notes on Peppermint:
Based on the research, we take an extra cautious approach and do not recommend using Peppermint topically with babies or children under five years old. I wrote an article about Aromahead's approach to safely using essential oils with children, and it includes some great recipe suggestions. Feel free to email me if you want a copy. andrea@aromahead.com
Peppermint can be irritating if applied to the face or near the eyes.
Wash hands well after use so you don't accidentally touch your eyes.
Peppermint can be quite skin irritating if used in the bathtub.
To avoid potential irritation, always dilute Peppermint essential oil before applying it to your skin. I tend to use 5 to 6 drops per 1 oz (30 ml) of cream or carrier oil.
The recipes shared in this article are intended for adults only. However, Peppermint it's best to avoid using it for people who have cardiac fibrillation or a G6PD deficiency.
---
Peppermint is the coolest essential oil in town.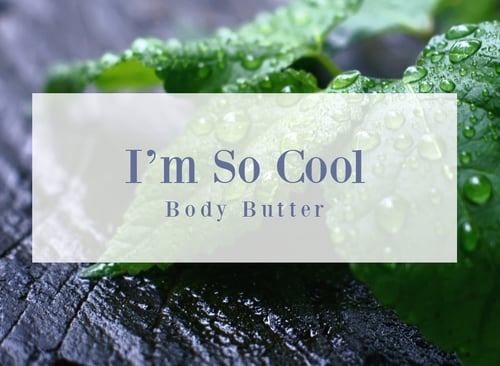 Peppermint is ultra-cool, and always leaves a good impression on new friends. You'll be hard pressed to find someone who doesn't love Peppermint after getting to know it!
It loves to relieve stress and have fun, and its upbeat energy is hard to resist. Peppermint brings a breath of fresh air and inspiration everywhere it goes.
Peppermint cools down overheated muscles.
How many times have you put a little bag full of ice on a painful, swollen area . . . or just used a bag of frozen peas?
The cold can feel so good, and it helps reduce inflammation to encourage healing. You just have to be sure to keep that ice bag full.
If you don't have a friend around to fetch fresh ice for you every fifteen minutes, Peppermint essential oil will be happy to fill in! (And it promises not to get you all wet with condensation.)
Peppermint is one of the best oils I know for soothing inflammation. It's cooling, comforting, and encouraging. In this recipe, I'm using it in a body butter for painful, swollen areas.
Ingredients:
3 oz (84 gm) Babassu butter (Orbignya oleifera)
3 oz (90 ml) Trauma Oil
1 oz (28 gm) Beeswax (Cera alba)
28 drops Peppermint essential oil (Mentha x piperita)
10 drops Lemon essential oil (Citrus limon)
15 drops Grapefruit essential oil (Citrus paradisi)
25 drops Lavender essential oil (Lavandula angustifolia)
28 drops Cypress essential oil (Cupressus sempervirens)
Directions:
Make your blend in two 4 oz (120 ml) glass jars. The blend makes about 7 oz (210 ml).
First, prepare yourself a "stovetop double boiler." Put a Pyrex measuring cup in a cooking pot that's about ¼ full of gently boiling water. Your ingredients will go in the Pyrex.
Melt the beeswax in the Pyrex.
Add the babassu butter. Babassu reminds me of coconut oil, since it's a liquid or a solid depending on the temperature it's stored at. It has so many healthy fatty acids for the skin! It also absorbs quickly.
Add the Trauma Oil. Trauma Oil is a skin nourishing, pain reducing oil made by infusing three herbs (arnica, calendula, and St. John's wort) in a base of carrier oil—usually that's olive oil.
Stir all your melted butters and carrier oils together gently with a glass stir rod.
Remove the Pyrex from heat and turn off the stove.
Add your essential oils, stirring gently.
Pour your blend into your 4 oz (120 ml) jars. Set them aside to cool for at least an hour.
Use your "I'm So Cool Body Butter" as often as you need to throughout the day.
---
Peppermint essential oil has a lot of energy.
That means it can help us with a lot of things: headaches, sore joints and muscles, digestive issues and nausea, swelling and inflammation, respiratory issues, low energy, anxiety, helping you hang shelves . . . just kidding!
I like to use it in massage oils for muscles or joints that are a little sore (just sore enough to keep you down for the count and ruin your "hanging the shelves" day . . . so maybe Peppermint really can help with that!)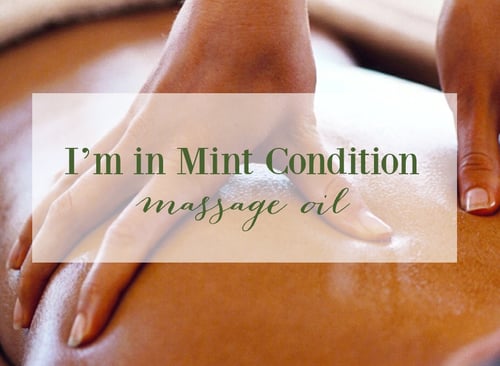 Trauma Oil is a wonderful carrier for Peppermint.
Together, Trauma Oil and Peppermint can have you feeling in mint condition in no time.
Ingredients:
1 oz (30 ml) Trauma Oil
6 drops Peppermint essential oil (Mentha x piperita)
7 drops Rosemary essential oil (Rosmarinus officinalis camphor)
5 drops Roman Chamomile essential oil (Chamaemelum nobile)
Make your blend in a 1 oz (30 ml) glass bottle. Massage sore, tight muscles, painful joints, or any achy area as needed.
---
Peppermint essential oil helps you release stress.
Peppermint has the compassionate capacity to help us release stress and recharge. So this recipe is for a refreshing hydrosol spritz that helps to open your heart and leaves you feeling ready for fun. Not familiar with hydrosols? I wrote about them on the Aromahead blog, because they are so different than essential oils!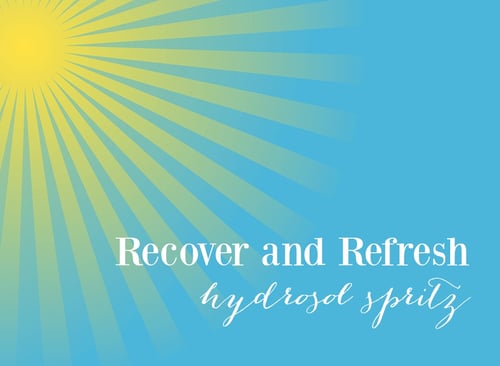 Ingredients:
5 oz (75 ml) Peppermint hydrosol (Mentha x piperita)
1 oz (30 ml) Lemon Balm hydrosol (Melissa officinalis)
½ oz (15 ml) German Chamomile hydrosol (Matricaria recutita)
Make your spritz in a 4 oz (120 ml) glass spray bottle. Keep it with you and spritz it on your neck, especially the back of your neck, whenever you feel tired or run down (physically or mentally). I love having this spray with me in hot weather.
I recommend making this blend fresh every few weeks.
Want a body spritz with more of a floral minty aroma? Here are a few more recipes you can try!
---
I hope these Peppermint essential oil recipes "recover and refresh" your spirit!
Peppermint is one of those essential oils that's incredibly popular . . . but Peppermint would never describe itself as "common!" It stands out from the crowd, and in Aromatherapy blends just a few drops of Peppermint go a long way. (Too many drops and Peppermint will "grab the spotlight" for itself, its aroma outshining the other oils.)
Look to this essential oil anytime you need an infusion of energy, a cool touch, or even mental focus.
Before we end this Spotlight, I'll give you one more way to use Peppermint . . . the pure hydrosol makes an excellent mouthwash! It freshens breath so well (no surprise there!) And if you like, you can blend 3 oz (90 ml) of Peppermint hydrosol with 1 oz (30 ml) of Frankincense hydrosol, which has a reputation for being great for oral care (teeth and gums love Frankincense!)
---
Subscribe to the Aromahead Blog
Get notified when we post a new Essential Oil Spotlight
By subscribing you agree to accept emails from Aromahead Institute.
Topics: peppermint essential oil, peppermint essential oil uses, how to use peppermint essential oil