Neroli (Citrus aurantium var. amara)
Want to come on a little mental journey with me?
I would ask you to close your eyes, but you couldn't close them and keep reading . . . so just imagine it with me!
Imagine it's nighttime, and you're in a beautiful grove of orange trees in blossom. A cool, refreshing breeze is rustling through the leaves, surrounding you with the aromatic perfume of the blossoms. It's such a tranquil place, and you feel peaceful and serene.
Now find a hammock under one of the trees and sleep like a baby.
Neroli essential oil comes from orange blossoms, and this is a great example of the feeling it can offer.


Okay, time to wake up! I want to share some ways to use Neroli essential oil for . . .
Relaxation
Calming kids' anxiety
Skin care
Emotional balance
Soothing tension
Natural perfume
And more!
There is something very enchanting about Neroli essential oil. It may just become one of your favorites! Like many floral essential oils, Neroli has a strong scent. A few drops of it go a long way, which is great because the essential oil is very "precious." Producing the oil is very labor intensive, and it takes a lot of plant material to make a single drop.


---
Neroli Essential Oil Bedtime Room Spray (for kids!)
Neroli essential oil loves to offer us a deep feeling of serenity. it's a warm, citrusy floral oil that inspires peace and harmony on emotional, mental, and physical levels. That's the power of Neroli.
These qualities make it perfect for a bedtime sleep spritz!
Here's a recipe that's great for adults and kids, since the oils in it are all very gentle and I'm only using a 0.5% dilution. This recipe is helpful for calming anxiety, too.
Nighty-Night Neroli Spray
1 oz (30 ml) Neroli hydrosol (Citrus aurantium var. amara)
1 drop Neroli essential oil (Citrus aurantium var. amara)
1 drop Ylang Ylang essential oil (Cananga odorata)
1 drop Lavender essential oil (Lavandula angustifolia)


You can make your spray in a 1 oz (30 ml) PET plastic spray bottle.
I usually prefer glass, but if we're making it for kids, we don't want the bottle to break if they accidentally drop it. PET plastic is known as a non-reactive plastic that doesn't leach. In cases where glass isn't ideal, PET plastic is a good choice.
Spritz it around the child's room, especially the bed, right before bedtime.
Try it around your own bed, too . . . and pretend you're sleeping in an orange grove!
I recommend making this blend fresh every few weeks, since it's a water-based blend that isn't made with preservatives.
If you take baths before bed, you can also make a bath salt blend with Neroli.
Here's a recipe I've always found soothing.


---
Can Inner Peace Come from a Body Butter?

Probably not.
But the right body butter can certainly help you get into a peaceful state of mind!
It's all about the ingredients you use to help yourself feel nourished, and about the essential oils you add, which can inspire relaxation, harmony, and healing.
Neroli essential oil is the perfect example!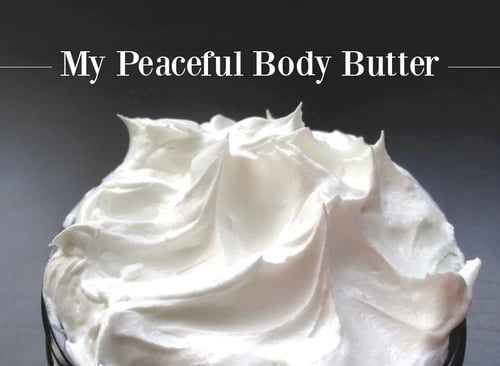 It helps you open to

deep levels of harmony and calm strength,

so no matter what's going on in the "outside world," you feel in touch with your own sense of peace.
My Peaceful Body Butter
4 oz (112 g) Kpangnan butter (Pentadesma butyracea)
1 oz (30 ml) Neroli-infused jojoba (Simmondsia chinensis)
1 oz (28 g) Beeswax (Cera alba)
15 drops Neroli (Citrus aurantium var. amara)
20 drops Lavender (Lavandula angustifolia)
15 drops Tangerine (Citrus tangerina)
10 drops Frankincense (Boswellia carterii)


Directions
Create a "double boiler" by putting a Pyrex measuring cup in a cooking pot that's ¼ full of gently boiling water.
Put the beeswax in the Pyrex and allow it to melt.
Add the kpangnan butter and Neroli-infused jojoba.
Once all your ingredients are melted, remove the Pyrex from heat.
Add your essential oils, stirring gently with a glass stir rod.
Pour your body butter into two 4 oz (120 ml) glass jars, and allow it to cool.
Smooth it on and experience inner peace!
I want to mention a few of these carriers, so you know why I chose them. Kpangnan butter is known for its skin healing anti-inflammatory properties, and Neroli-infused jojoba has a light, citrus, floral aroma that adds breadth to the fragrance of the blend.
As for the essential oils, Neroli, Lavender, Tangerine and Frankincense are a great team when it comes to calming the nervous system and inspiring emotional balance. These four friends are also wonderful for supporting skin, helping it to rejuvenate.
Use this body butter on a daily basis for luxury skin care that's completely natural.
Enjoy!


---
Neroli and Marula Relaxing Massage Oil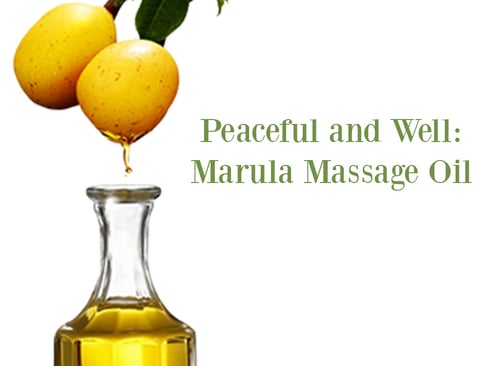 Relaxation isn't something we can chase down.
But it is something that we can invite.
A relaxation massage with Aromatherapy is a great way to do this. There are a lot of essential oils that invite relaxation, and Neroli is one of my favorites. It knows how to relieve stress at the source—in your emotions and mind. It restores your heart just as massage soothes your body (and mind and heart).
Peaceful and Well: Marula Massage Oil with Neroli
1 oz (30 ml) Marula oil (Sclerocarya birrea)
1 oz (30 ml) Jojoba wax (Simmondsia chinensis)
5 drops Neroli (Citrus aurantium var. amara)
7 drops Pinon Pine (Pinus edulis)
8 drops Juniper Berry (Juniperus communis)


Make your blend in a 2 oz (60 ml) glass bottle.
Marula is a natural carrier oil that's made by hand in South Africa. It offers deep, penetrating skin nourishment, and its light aroma lets the floral citrus of the Neroli, and the fresh piney scents of the Pinon Pine and Juniper Berry, shine through.


---
Neroli Essential Oil Natural Perfume

Neroli essential oil has a long history of use in perfumes. It may even have gotten its name from a princess who used it this way!
In his book Aromatherapy for Healing the Spirit, Gabriel Mojay tells us:
"Neroli is thought to have been named after Anna Maria de la Tremoille,
Princess of Neroli (near Rome), who in the 17th century
introduced the oil to Italian society. Anna Maria used the
scent wherever she could—on her gloves, stationery, and scarves."
You can make your own Neroli perfume balm and use it on your wrists, neck, chest, and anywhere you like to smell good! The balm is made of jojoba and beeswax, so it even works as a luxurious, fragrant hand moisturizing salve.
Princess Perfume Balm
2 oz (60 ml) Jojoba wax (Simmondsia chinensis)
1 oz (28 g) Beeswax (Cera alba)
15 drops Neroli (Citrus aurantium var. amara)
12 drops Yuzu (Citrus junos)
17 drops Sandalwood (Santalum paniculatum)


To make your perfume, you'll need three 1 oz (30 ml) lip balm tins.
First, melt your beeswax. Put it in a Pyrex measuring cup, and then put the measuring cup in a cooking pot that's ¼ full of gently boiling water. The heat of the water will warm the Pyrex and melt the beeswax.
When the beeswax is melted, add the jojoba.
Remove the melted blend from heat and add your essential oils, making sure you love the aroma as you go. If the blend starts to solidify, you can always put the Pyrex back in the pot and reheat it.
Pour your perfume into your lip balm tins and let it cool.


This perfume always makes me feel centered, calm, and happy. Neroli tends to have that effect, and pairing it with grounding Sandalwood and bright Yuzu makes for a very balanced aroma.
*****
Want a more foresty perfume recipe?
Woodsy Perfume Balm

*****
This natural perfume recipe has been popular on Aromahead's YouTube channel!


---
Neroli had a few other ideas for helping you relax . . .
. . . like taking you on a spa tour and strumming a six-string guitar while you rest in a hammock and do absolutely nothing.
But Neroli doesn't want feeling calm to be a "special occasion" for you. It wants peace to be a normal part of your daily life! These recipes offer practical, fun ways to do that. I hope you enjoy them!
---
Subscribe to the Aromahead Blog
Get notified when we post a new Essential Oil Spotlight
By subscribing you agree to accept emails from Aromahead Institute.
Topics: neroli essential oil, how to use neroli essential oil, Neroli, how to use neroli