Laurel Leaf (Laurus nobilis)
Laurel Leaf essential oil has a fresh, spicy scent that opens your lungs and your mind. It's invigorating and inspiring.
Laurel has a host of therapeutic properties to support us.
I like to remember that it's associated with achievement and victory.
So it's a great helper when it comes to clearing away anything that stands between you and your best—that's why it's good for healing so many issues! (That's how I like to think of it, anyway!)


In Laurel Leaf essential oil's Spotlight, I'll share ways to use it for:
Mental focus and clarity
Calming cold symptoms
Sore muscles
Immune support
Reducing germs
And more.
Laurel Leaf is more of an energizing essential oil than a relaxing one. I like to use it during the day. If I want to make a blend for night, or when I want to feel more relaxed, I'll sometimes substitute another oil for Laurel Leaf. Cedarwood (Juniperus virginiana) is a great choice.
Enjoy the recipes!


---
Stay Focused and Clear with a Laurel Essential Oil Diffuser Blend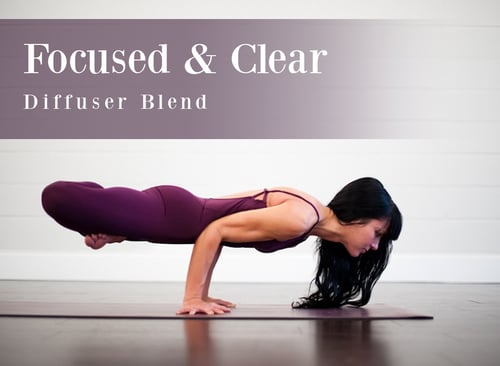 Laurel Leaf essential oil is wonderful at opening your breath and clearing your head. It's great for releasing "stuck energy," whether that means congestion or an inability to focus your thoughts.
Laurel is the perfect companion when you have a cold or allergies but still have to go to work!
Focused and Clear Diffuser Blend
10 drops Laurel (Laurus nobilis)
10 drops Rosemary ct. camphor (Rosmarinus officinalis ct. camphor)
20 drops White Spruce (Picea glauca)
10 drops distilled Lime (Citrus aurantifolia)
There are 50 drops of essential oil in this blend . . . but I'm not suggesting that you use 50 drops in your diffuser!
Make this blend in a 5 ml amber bottle. You only need to diffuse 5 or 6 drops at a time.
This is what's called a "stock blend."


You make more than you need,
and then you'll have some of your blend
"in stock" for when you want to use it again.

Stock blends are so convenient! If you create a diffuser blend you love, you don't have to remember it or recreate it every time. You can just reach for your stock bottle. So helpful when you're feeling sick or busy and don't feel like making Aromatherapy blends.


---
Massage Sore Muscles with Laurel Leaf Essential Oil

If you need a massage oil for sore muscles, perhaps resulting from a tough workout, or a cold or the flu, Laurel is a great choice for your blend.
It soothes, encourages, and energizes.
Here's a recipe you can try during your next massage.
The Laurel "Extra Mile" Massage Blend
2 oz (60 ml) jojoba (Simmondsia chinensis)
6 drops Laurel (Laurus nobilis)
8 drops Rosemary (Rosmarinus officinalis ct camphor)
15 drops Orange (Citrus sinensis)


Have you ever seen someone win a race and be crowned with Laurel leaves? This is a practice from ancient times that has survived to today.
When we think of Laurel Leaf essential oil (sometimes called Bay Laurel or Sweet Laurel), we can think of a cheering section to help us stay energized and go the distance.
This blend can help to calm inflammation in sore muscles, open your breathing, and fill you with a sense of energy and "I can do this!" optimism.


---
Laurel Leaf Essential Oil Inhaler for Respiratory Health

When I make a blend for respiratory support,
I know I can rely on essential oils that contain
the chemical component 1,8 cineole.

1,8 cineole is antiviral, antimicrobial, mucolytic, analgesic, and anti-inflammatory. It's also present in Eucalyptus essential oil, which is a famous respiratory helper.
Here's a recipe for one of my favorite Aromatherapy inhalers that I use to support my lungs and sinuses.

Stay Healthy Inhaler
3 drops Laurel Leaf (Laurus nobilis)
5 drops Saro (Cinnamosma fragrans)
4 drops Ravintsara (Cinnamomum camphora ct. 1,8 cineole)


You can get blank Aromatherapy inhalers at Aromatics International. They look like little lip balm tubes, and inside there is a cotton insert. Just drop your essential oils on the cotton insert, then snap the inhaler closed.
To use it, just raise it to one side of your nose and inhale.
Watch me make an Aromatherapy inhaler!
I take you through the process step by step in this video.
The recipe is for an allergy inhaler that calms symptoms and supports ongoing health.

I carry my inhaler with me and use it to prevent myself from getting sick. If I've forgotten to bring it along and happen to get sick, I rely on it even more. It's great to travel with! No one smells the essential oils but you, so you can even use on a plane or a tightly-packed bus.


---
Wash Up with Laurel Leaf Essential Oil Foam Soap!
Laurel Leaf essential oil doesn't want anything to slow you down, least of all a cold.
It's a wonderful anti-infectious agent, so it can "deactivate" or "neutralize" germs before they get into your system.
That's why it's the perfect ingredient for foam soap!
Here's a recipe that's easy to make, and perfect for the bathroom sink. You'll need a 2 oz (60 ml) foam pump bottle.
Laurel Orange Foam Soap
1.5 oz (45 ml) castile soap
6 drops Laurel (Laurus nobilis)
15 drops Orange (Citrus sinensis)
10 drops Lavender (Lavandula angustifolia)


I'll bet you can guess the blending directions on this one! (Just put everything in the soap pump. Easy, right?)
You can find foam soap pumps at Aromatics International.
They have two sizes—50 ml and 250 ml. This recipe is for a 50 ml bottle.
You'll notice that the castile soap doesn't quite fill the bottle to the top. That's because when you put the lid on, the liquid will rise, and if it's too high it could overspill.


---
Laurel Leaf essential oil wants you to feel victorious . . .
And for Laurel, that means feeling healthy and full of energy!
Laurel may be a fan of victory, but it doesn't actually believe you can ever "lose" or "fail" to achieve something. Laurel likes to say "If you haven't achieved your goal, it just means you're not finished with your journey yet!"
For Laurel, persistence and patience are the keys to success. You can be persistent with your own health, and patient with yourself as you get to your goal. Laurel Leaf essential oil will be there to support you.


To learn more about other

essential oils

, visit our Essential Oil Spotlights page.
---
Subscribe to the Aromahead Blog
Get notified when we post a new Essential Oil Spotlight
By subscribing you agree to accept emails from Aromahead Institute.
Topics: laurel essential oil, laurel leaf essential oil, laurel leaf, how to use laurel leaf essential oil, how to use laurel essential oil