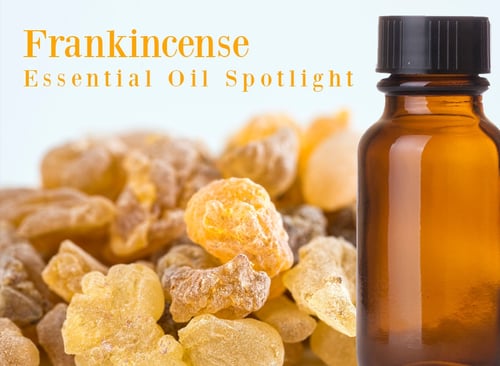 Frankincense (Boswellia carterii)
Frankincense essential oil has a deep, resinous, balsamic scent.
It's familiar and comforting, yet rare enough in daily life that smelling it makes the moment stand out.
Frankincense has a LOT of benefits for us!
It can help us with skin care, calming inflammation, relieving pain, respiratory support, emotional balance, relaxation, easing anxiety, and more.


In Frankincense's Spotlight, I'll share ways to use Frankincense essential oil and hydrosol for:
Relaxation
Your yoga practice
Facial toner and body spritz
Linen spray
Natural homemade incense
And more!
Frankincense's ability to remind me that every moment is special is one reason I love it. (There are many!)


---
Frankincense Essential Oil Relaxing Diffuser Blend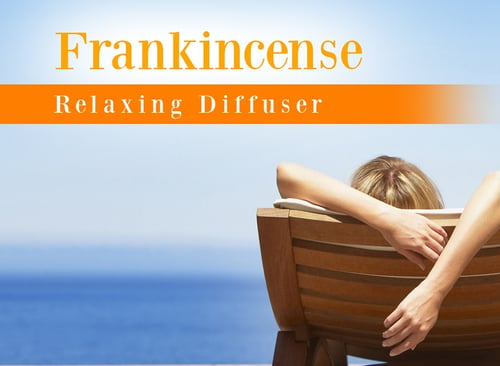 If you make a single-use diffuser blend (about 5-10 drops of essential oil dropped right in your diffuser), and you absolutely love it, you can increase the recipe and make a small bottle of your blend.
That's called a "stock blend," because you don't have to make the blend each time you want to use it. You already have a full "stock" of it ready to use.
I use a 5 ml amber glass bottle, and I keep it right next to my favorite diffuser.
Here's a stock blend I make with Frankincense.
Frankincense Relaxing Diffuser Blend
40 drops Frankincense (Boswellia carterii)
20 drops Green Mandarin (Citrus reticulata)
5 drops Jasmine absolute (Jasminum grandiflorum)
Use 5-10 drops in your diffuser.
This blend is resinous, with warm floral notes and a hint of bright citrus. All three oils are calming and reassuring—so this blend is the perfect companion for a relaxing evening! It helps to soothe your nervous system, calm "overthinking," and inspires a sense of self-compassion that can help you feel at peace right where you are.


---
Use Frankincense Essential Oil to Support Your Yoga or Massage Practice

Frankincense is a resin produced by the Boswellia carterii tree when its trunk is wounded. The resin is brought from deep within the tree to seal and heal the wounds.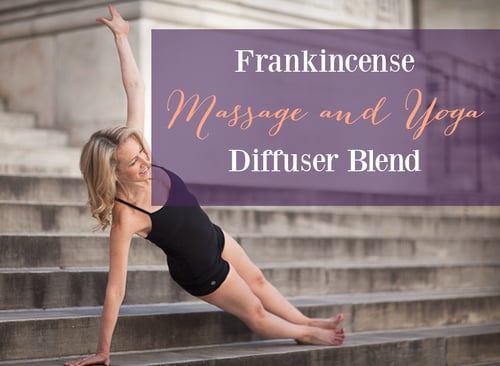 I find that Frankincense essential oil brings this same quality to massages and yoga practices. During those times, we can access deep reserves of inner strength and heal in profound ways.
Here's a diffuser recipe that you can use in your massage room or yoga studio to promote this quality.
Make the blend in a 5 ml stock bottle. Use 5-10 drops in your diffuser.

Frankincense Massage and Yoga Diffuser Blend
15 drops Frankincense (Boswellia carterii)
10 drops Juniper (Juniperus communis)
20 drops Elemi (Canarium luzonicum)
15 drops Bergamot (Citrus bergamia)
Directions
Smile!


---
Bonus!
7 Ways Frankincense Hydrosol can Help You Calm and Center Quickly.

Do you use hydrosols? Hydrosols are aromatic waters with therapeutic properties. They're excellent for those times when you don't need the full strength of an essential oil.
Frankincense hydrosol is calming, centering, and skin-loving. There are so many ways you can use it!
Spray it on your face as a toner after washing.
Spray some on a washcloth and run it over your body right before you get out of the shower.
Add a capful to your bath water.

Body spritz after your shower.

Use it as a linen spray before bed.
Use it as a facial steam. (Add a capful to a bowl of hot water. Lean over the bowl and cover your head with a towel, breathing deeply. You can add one drop of Frankincense essential oil, if you like. This is great for your skin or for when you feel a cold coming on!)
Spray it on your yoga mat before you begin your practice.


If you start using Frankincense hydrosol,
I bet you'll come up with even more ways to use it every day.


---
Frankincense Homemade Natural Incense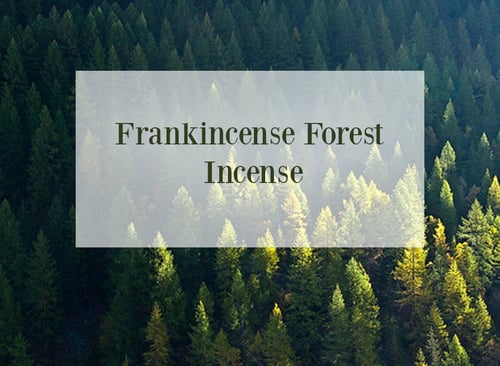 Frankincense has a long history of use during meditation and rituals.
So what better way to use Frankincense than as incense?
There is actually a way to make incense sticks themselves, but if I'm short on time, I just add essential oils to ready-made blank sticks. That's the method I'm going to share with you today (and the one I use in this video, watch it so you know what to expect!)
I suggest making one incense stick to start with. If you like the experience of burning it, you can make a small batch of them. One stick will take about 20 drops of essential oil.
Here's a beautiful blend with Frankincense essential oil!
Frankincense Forest Incense
10 drops Frankincense (Boswellia carterii)
8 drops Cypress (Cupressus sempervirens)
2 drops Jasmine (Jasminum grandiflorum) OR Ylang Ylang (Cananga odorata)
Directions
I use a long, narrow olive dish to make incense. I just lay the stick in the dish, drop the essential oils onto it, and roll the stick in the oils that fall in the bottom of the dish to soak them all up.
If you don't have an olive dish, you can use a piece of foil folded into a "V" shape. Just be sure to turn the ends up so your oils don't spill out!

Frankincense resin comes out of the tree in response to a wound in the tree's wood. The tree sends forth a healing resin to seal the wound and help itself heal.
There is such a beautiful metaphor in this for the way Frankincense supports us!
It's as though Frankincense puts us in touch with our own inner healing, and that's what shows up in our bodies and minds when we're using the essential oil. I hope these recipes bring out your own inner strength!


Get to know Frankincense with Aromahead's Frankincense Essential Oil Spotlight !
This webinar class focuses on why Frankincense is a great choice for the blends in this Spotlight. You'll also learn a recipe for natural deodorant, and one for an amazingly effective pain relief oil.
Spending time with a single essential oil—learning its personality, how it behaves in different blends, and how we respond to it—is a beautiful way to develop a relationship with it. Click on the image above to learn more and sign up!
---
Subscribe to the Aromahead Blog
Get notified when we post a new Essential Oil Spotlight
By subscribing you agree to accept emails from Aromahead Institute.
Topics: Frankincense, frankincense essential oil, how to use frankincense, how to use frankincense essential oil, frankincense essential oil uses, frankincense uses